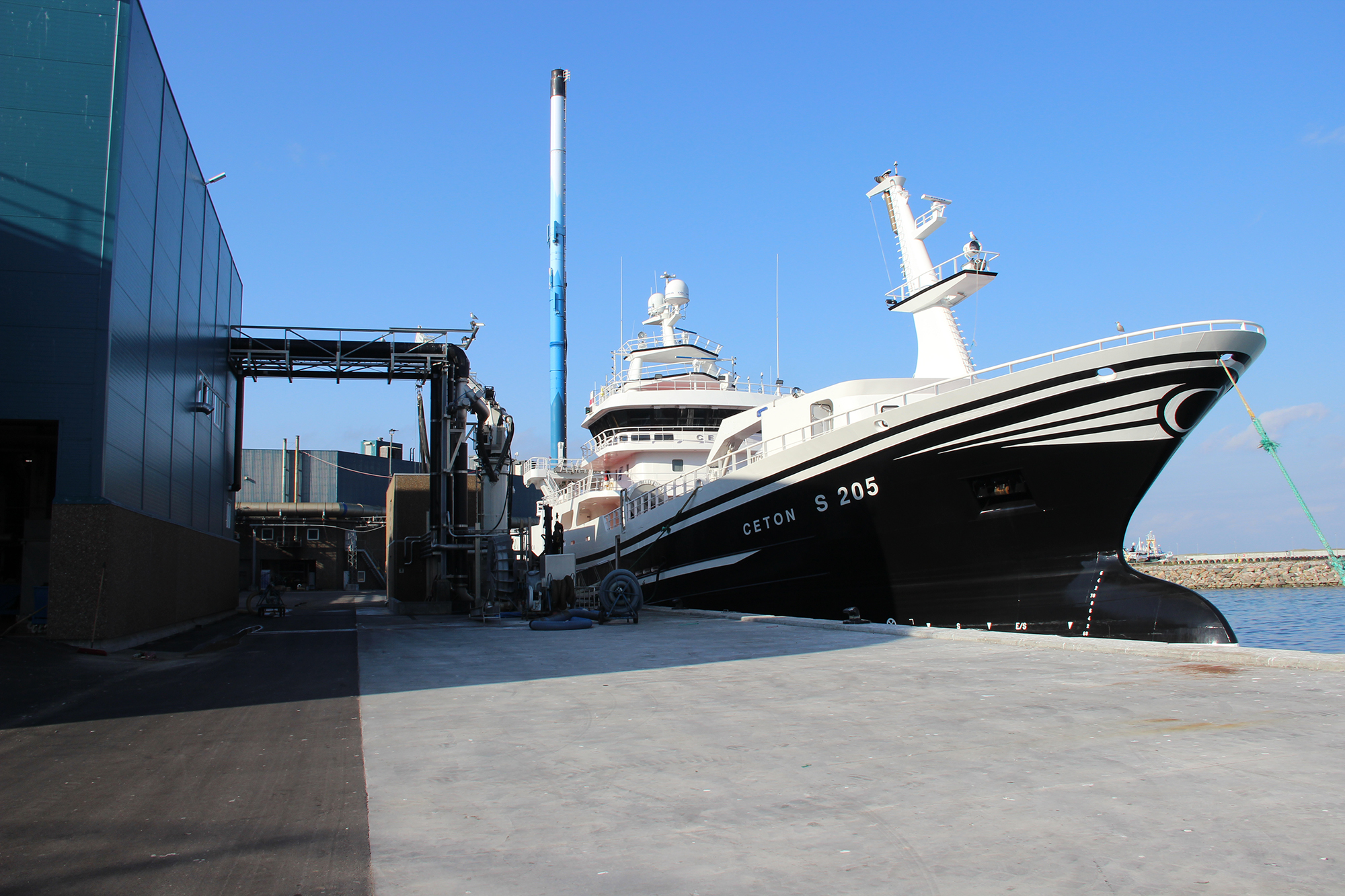 Industrial fishing
Quality-assured raw materials for the production of fishmeal & fish oil
Fishing as a streamlined business
With its location close to the fishing grounds, the Port of Thyboron has been the home port for sand eel (tobis) and pelagic fishing since this type of fishing began in the 1950s. Industrial fishing has developed steadily and been modernised over the years, and now uses safe vessels with good working conditions for the crew, and equipment that ensures the best quality raw materials for feed production. The Port of Thyboron has developed in step with the sector, and has recently commissioned new world-class unloading facilities for industrial fishing crews.
Industrial fishing is one of the key business areas at the Port of Thyboron, accounting for about 25 per cent of the port's turnover.
A reliable business
Industrial fishing vessels operate an efficient business. Fishing vessels for blue whiting, sand eel, sprat and Norway pout are designed as highly professional workplaces, where efficiency, reliability and ultra-short waiting times are essential. You have to fish while the fish are there. It takes skill to find and catch the elusive fish species and operate a large fishing vessel.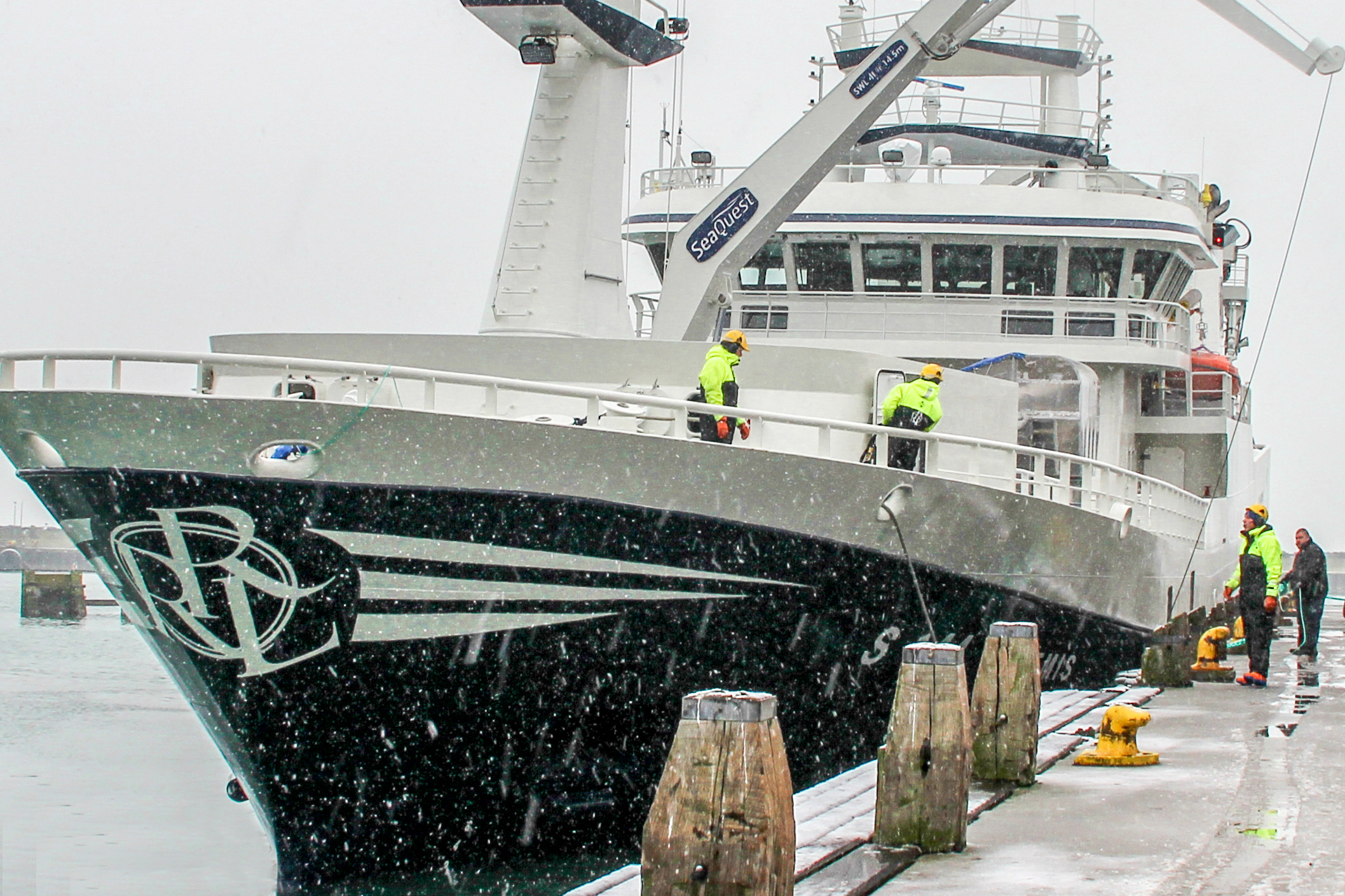 Easy access to fishmeal factory
At Thyboron, it is very easy to sail in to the fishmeal and fish oil factory and discharge the catch. TripleNine A/S is located directly opposite the entrance to the Port of Thyboron, and the newly built quay makes it easy to sail to the new discharging facilities with a minimum of manoeuvring.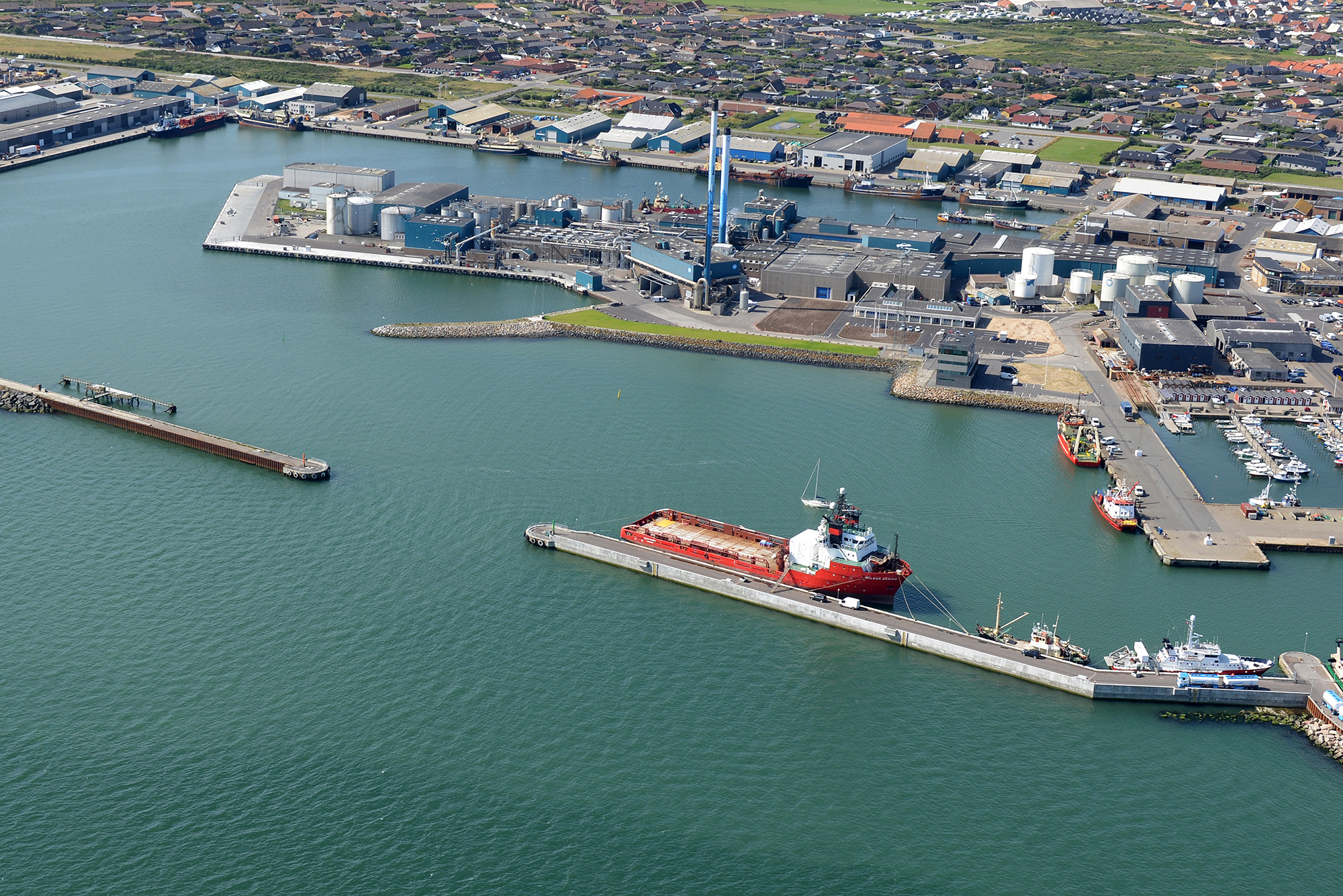 New discharging quay facilities
First-class working conditions at the discharging plant for the TripleNine A/S fishmeal and fish oil factory ensure that vessels can quickly return to sea, after a professional pit stop encompassing numerous services during discharging.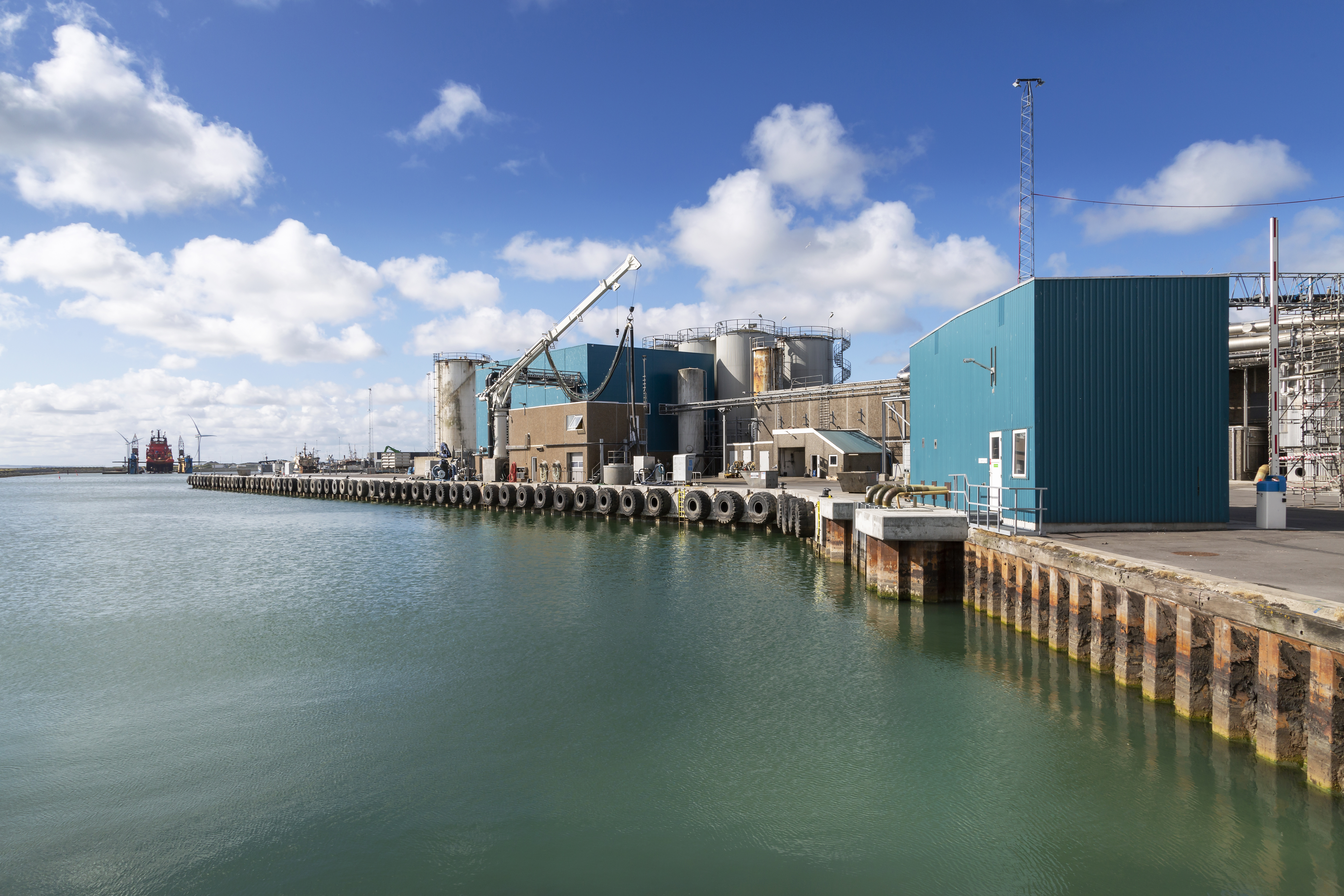 Fishmeal factory with good receiving facilities
To keep waiting times during discharging to an absolute minimum, the new receiving facilities at TripleNine A/S are designed to handle 400 tonnes of fish per hour with a self-selfdischarging system.
Fishmeal factory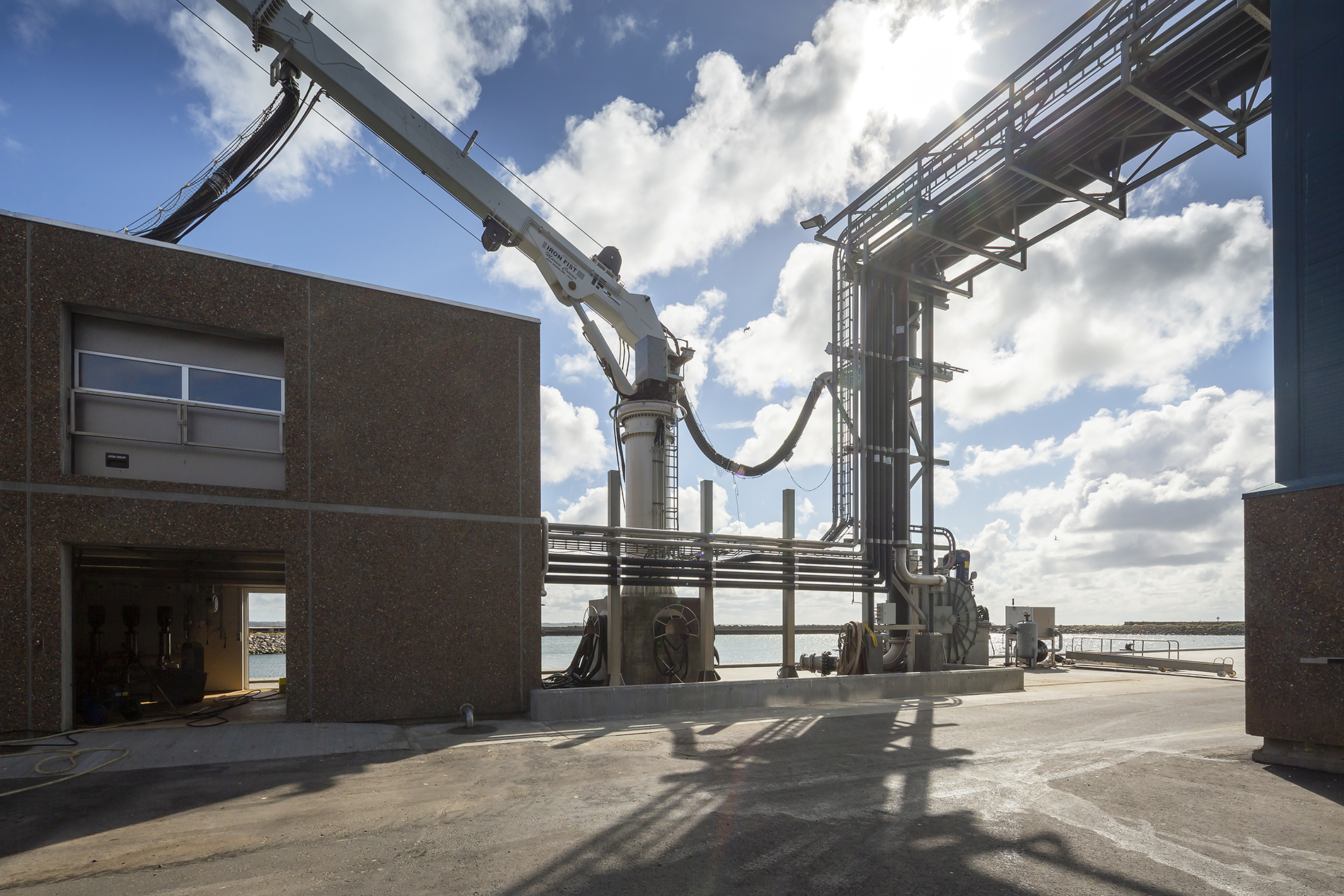 Ample space for pelagic vessels
In addition to the 160-metre discharging quay (Sperlingkaj), a new 130-metre long quay (Oliekaj) has been built, which can also serve as a layover quay for industrial fishing vessels when there are no imminent oil deliveries on the way. This means there is now ample space in the harbour for large pelagic fishing vessels in Thyboron.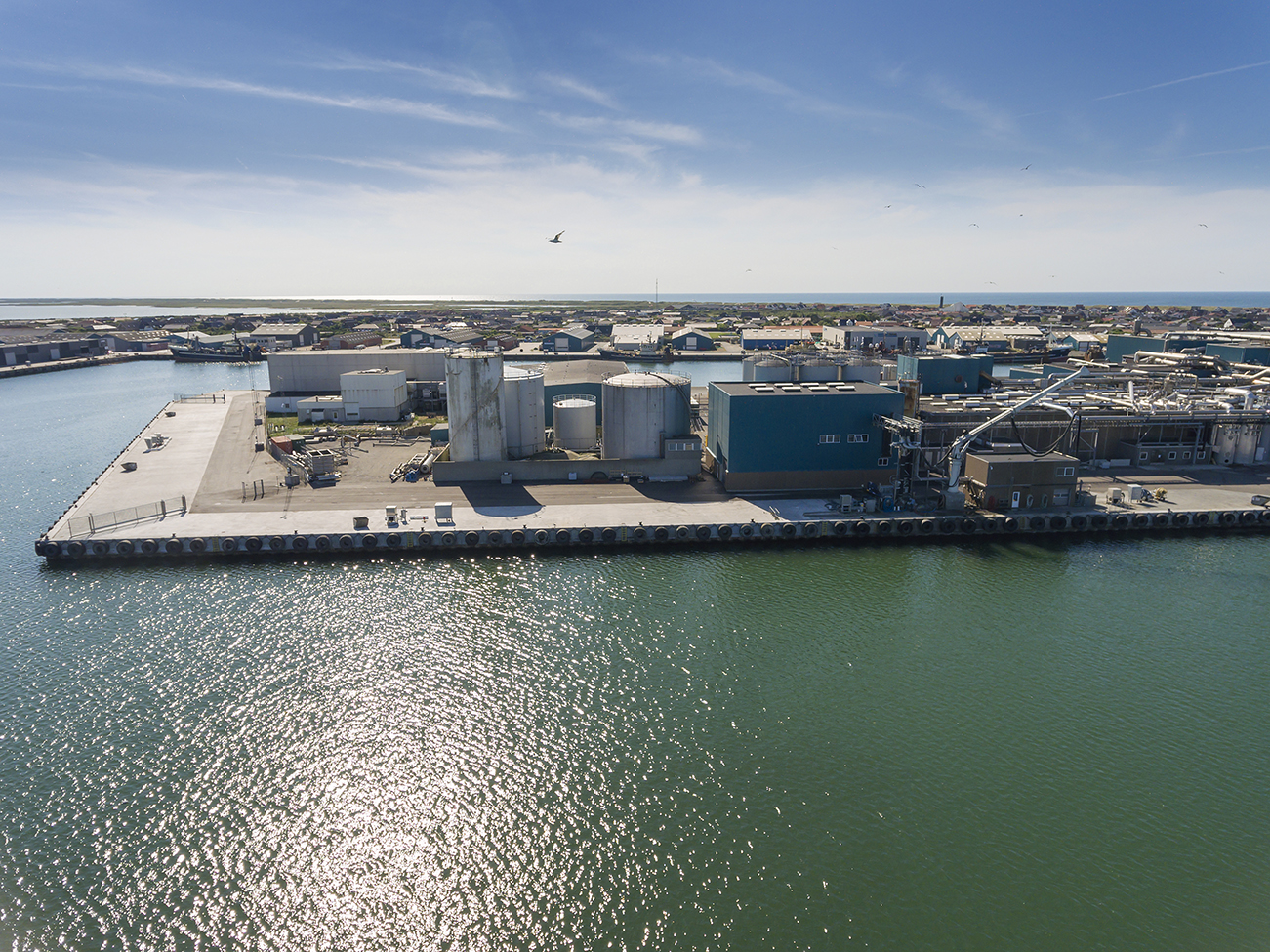 Easy access to rapid fish discharging and refilling of supplies is essential for industrial fishing vessels, so they can quickly return to sea. These vessels are not designed to stand idle. We therefore take pride in ensuring that fishing crews have the right working conditions and consider their workflows when we build new port infrastructure.
Easy access for maritime services
At the Port of Thyboron, vessels can easily and efficiently refill supplies while the vessel is in port. There is easy access to water for the fishing vessels' cooling tanks, as well as bunkering and electricity. The new quays even allow for vessel maintenance or repair by the local maritime service companies during discharging. The entire quay is designed for easy access for maritime services, such as the maintenance and repair of trawls, buckets and vessels, and there is easy access for cranes.
Maritime Services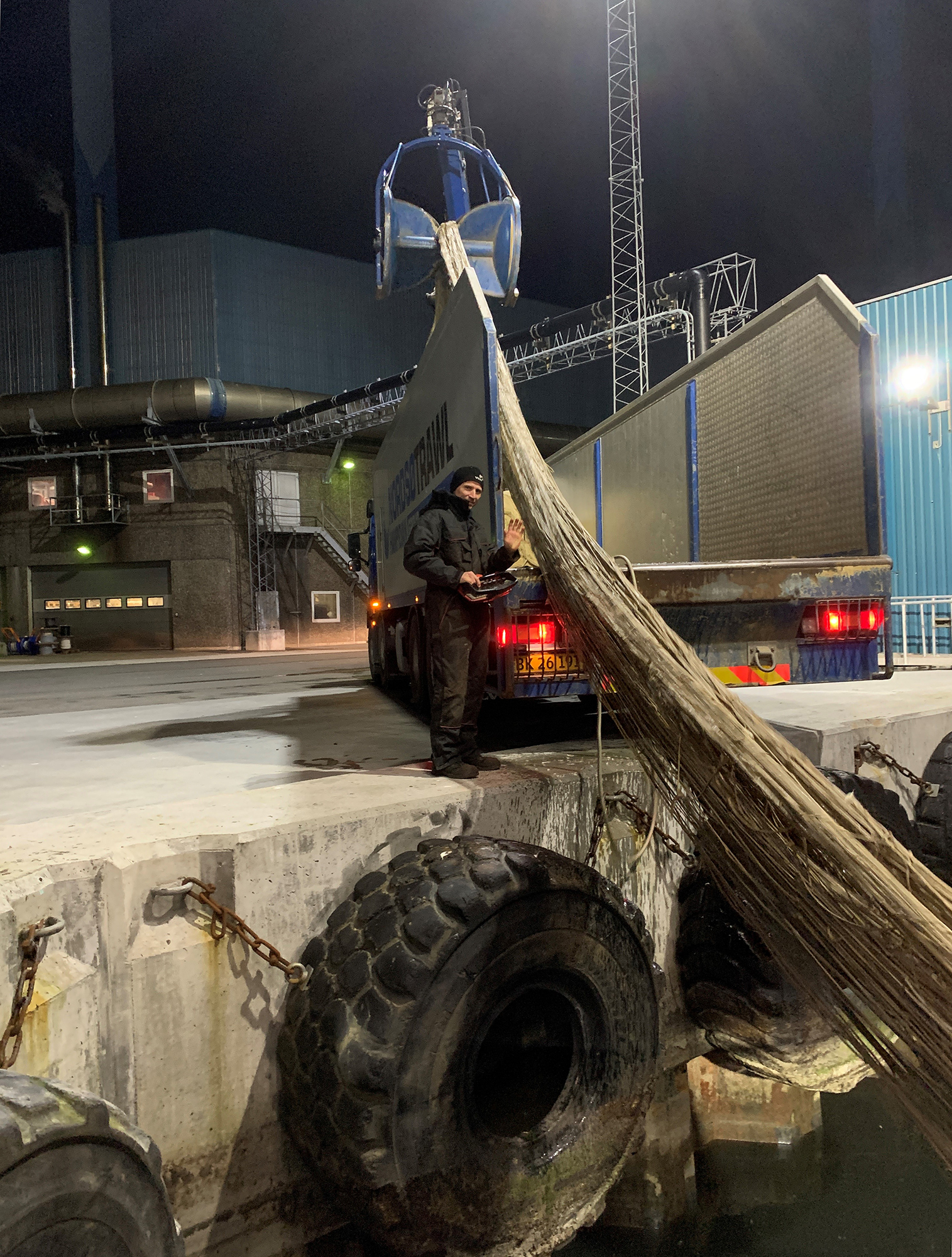 Port infrastructure specially designed for industrial fishing
This section has further information on quays for industrial fishing and an overview of port facilities such as trawl-stretching and other facilities for the maintenance and repair of fishing gear and vessels.
Fishmeal and fish oil factory
The TripleNine A/S fishmeal and fish oil factory is Norwegian owned and part of a global group with production in Denmark, Norway and Chile. The Group has one of the world's largest production facilities in Thyboron. Both the factory and receiving facilities are world-class following recent renovation, and offer fishing crews excellent working conditions.
Fishmeal factory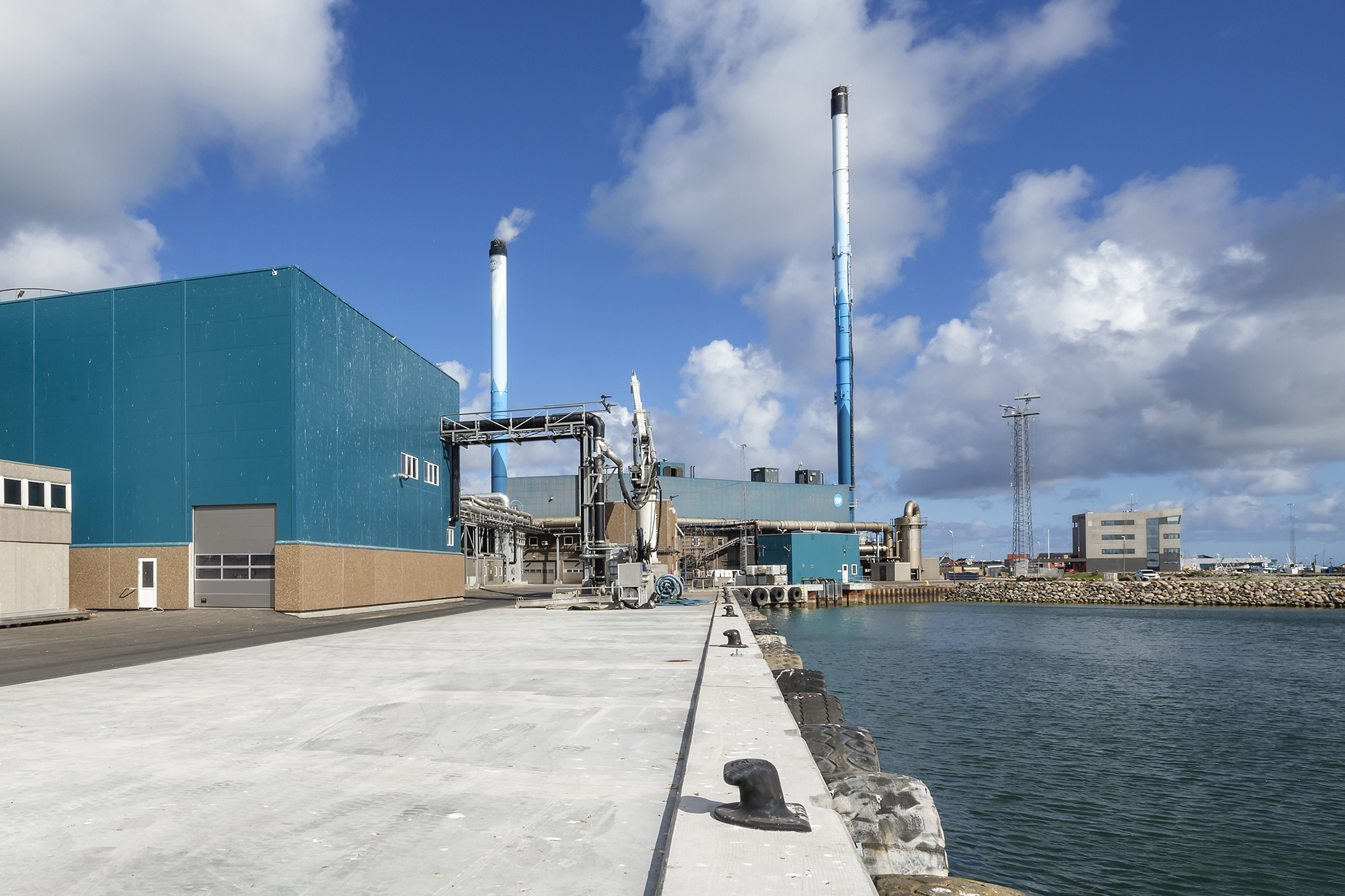 Highlights and latest news
We are continually developing the port in cooperation with our customers. This section has highlights and the latest news for industrial and pelagic fishing.
10 m water depth
It is a great pleasure to have 10 m water depth in the entrance to the outer harbour of Port of Thyboron today. Even the largest industrial fishing vessels can enter safely for discharging at the fishmeal factory TripleNine A/S.
10-metre-deep fairway to the Port of Thyboron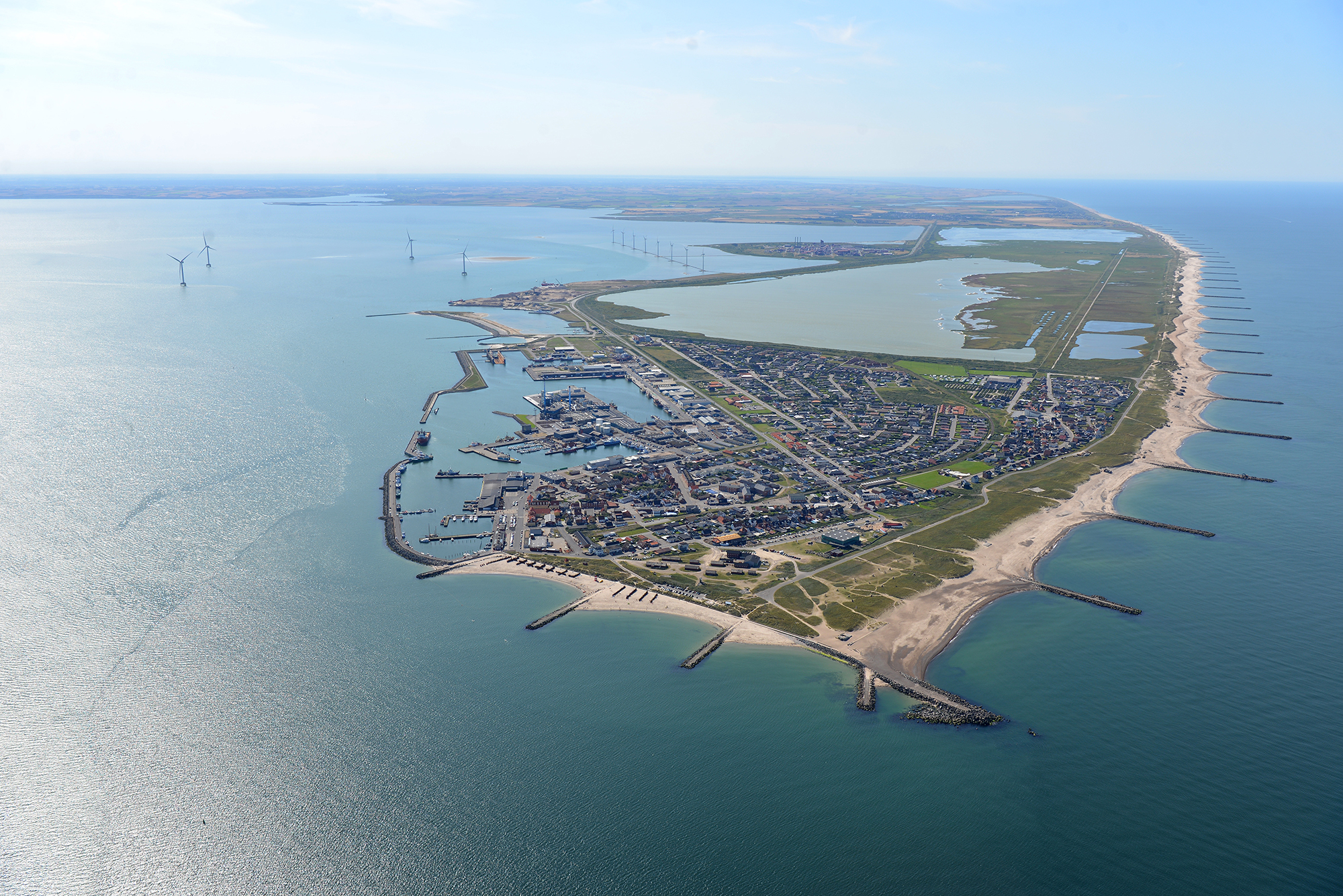 New high capacity discharging plant in operation
The Port of Thyboron has renovated the entire quay at the TripleNine A/S fishmeal factory, and the factory has invested in new high capacity discharging facilities. The combined result is unique working conditions for industrial fishing crews and the elimination of waiting time for discharging.
New discharging quay facilities at TripleNine A/S
Sperlingkaj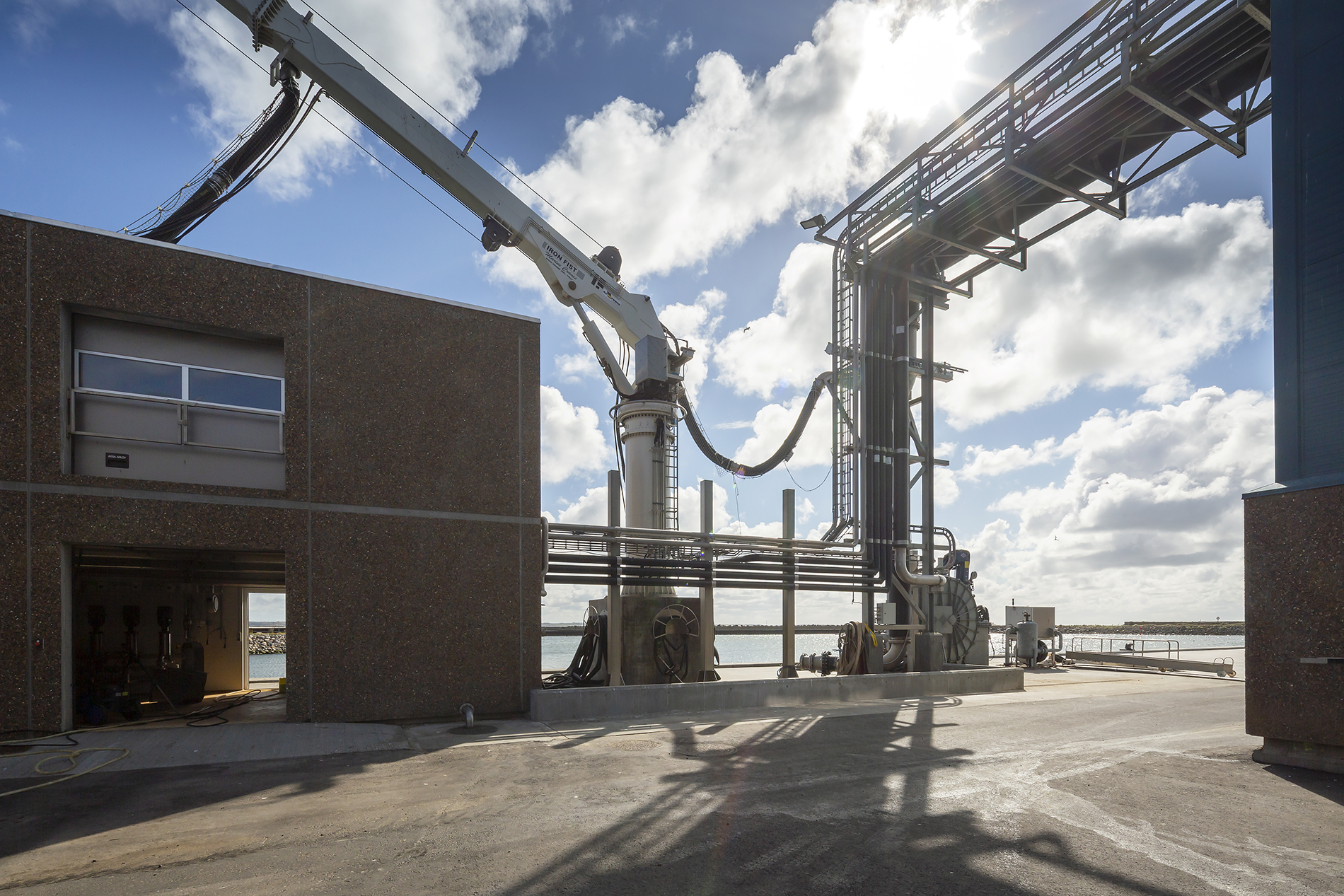 Upcoming events for industrial fishing
This section lists upcoming events where you will be able to meet representatives from the Port of Thyboron in the near future. We look forward to meeting you!
Quay facilities for ship maintenance
There are numerous opportunities for fishing vessel maintenance at the Port of Thyboron. A large cluster of expert maritime service companies are based at the port. Many have quayside locations at Nordsøkaj, where there is ample space to perform maritime services on vessels and easy access for cranes and trawl stretching.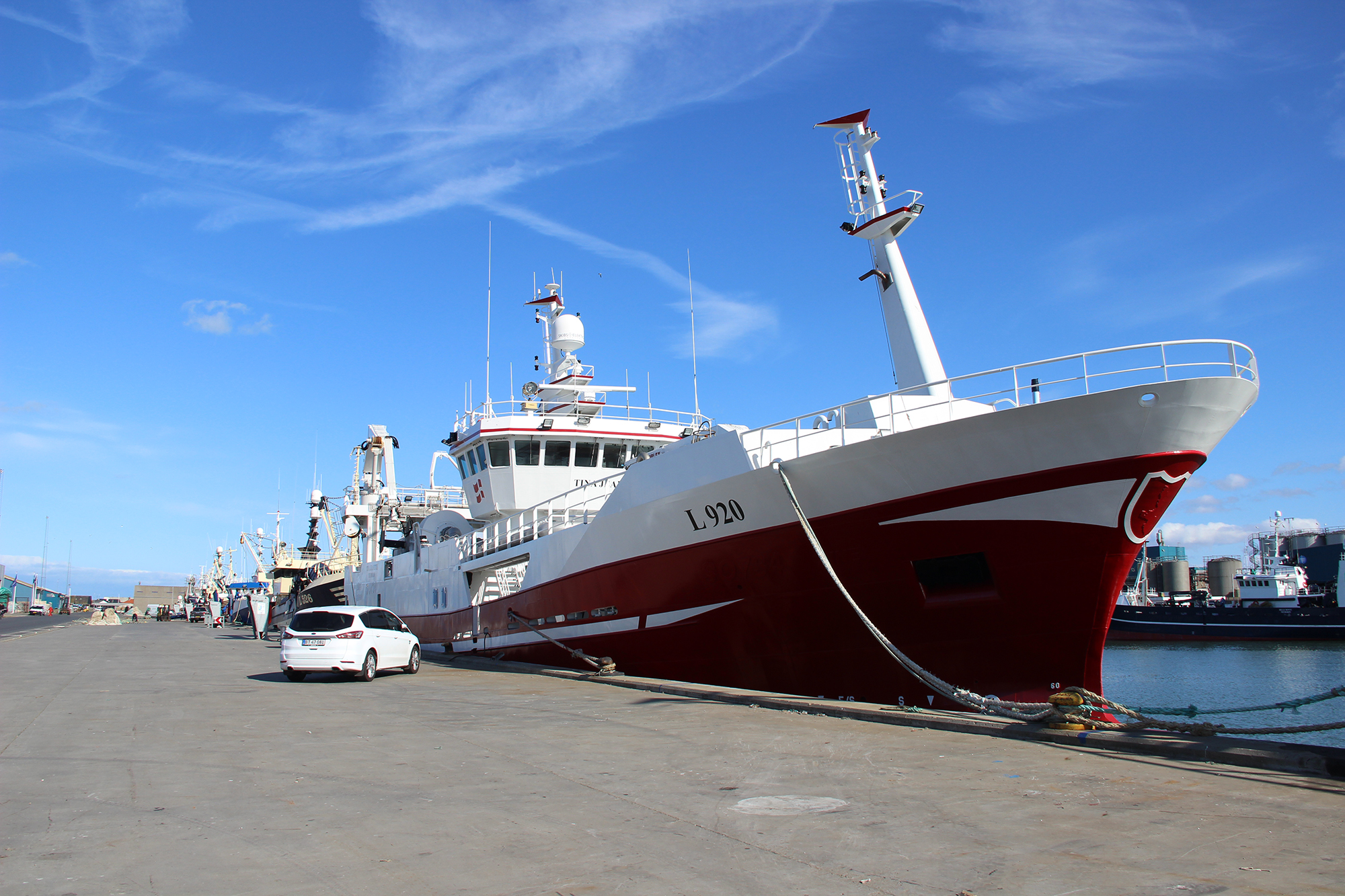 First-class service
Over 100 local companies, each with their own special expertise, are standing by when you sail into the Port of Thyboron. There is a long tradition of maritime services in Thyboron, with a strong focus on giving customers the absolute best service. If your vessel docks in Thyboron, all these companies are available to you at the same time. This optimises and reduces time ashore, and a lot of maintenance can be done while you are in port to unload.
The environment is everyone's responsibility, and we make it simpler
Operational information for industrial fishing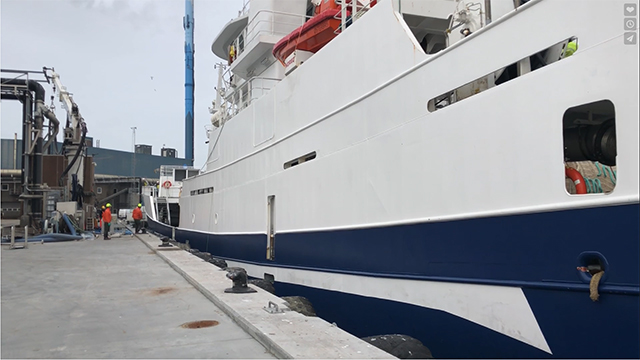 Easy access to discharging facilities
A peek into the industry
Take a peek into the many professions that use the Port of Thyboron. There are some very good examples on Instagram of how port users work and utilise Thyboron Port.