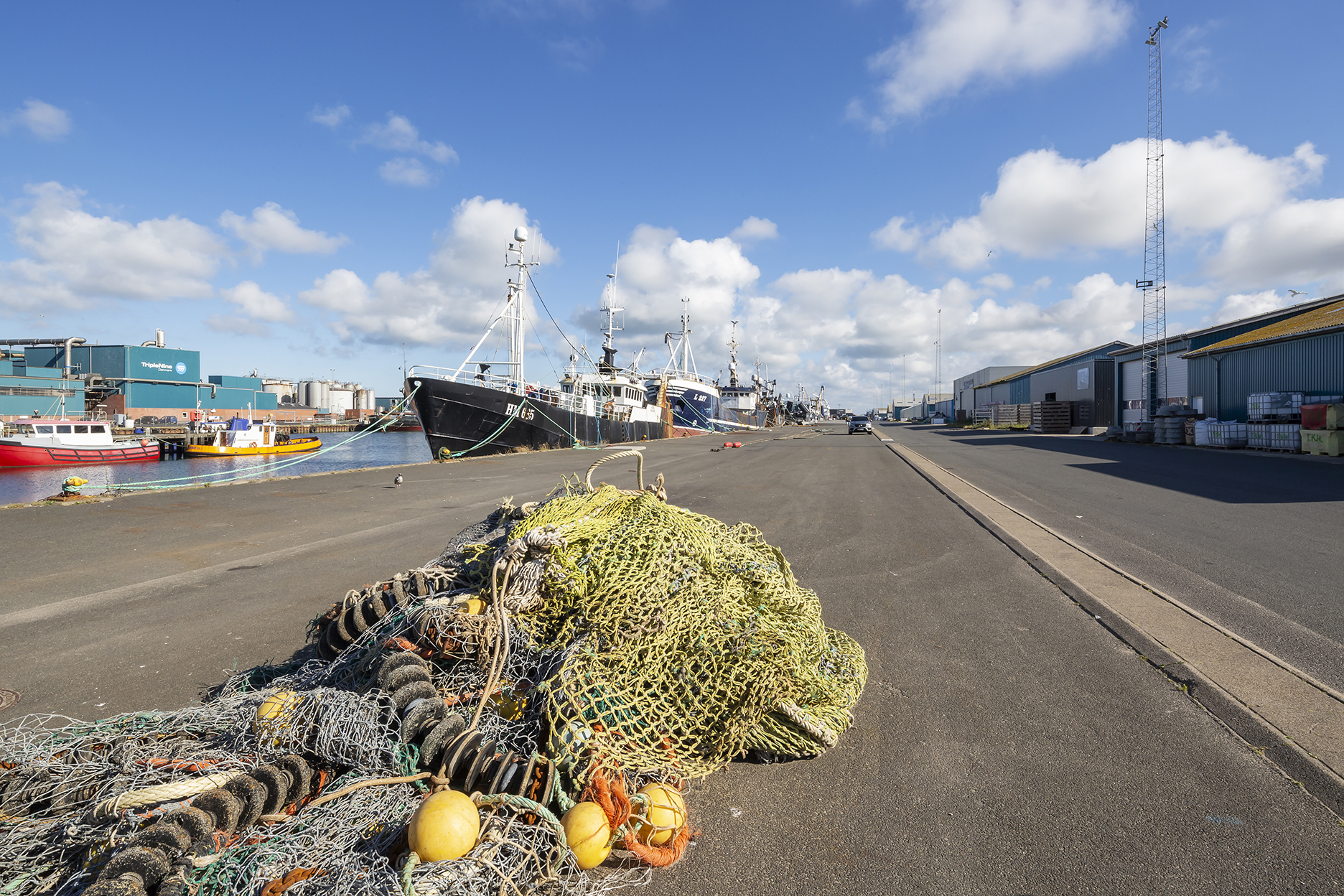 Nordsøkaj
Quay 900, 901, 1021, 1022, 1023
Fishing vessels receive maritime services on Nordsøkaj
The Nordsøkaj quay specialises in maritime services for fishing vessels. There is ample space to inspect the trawl while the vessel is in port, and the long concrete section parallel to the quay is designed to handle heavy crane lifting. Fishing vessels can have engine and hydraulic parts replaced, and there is ample space to work without disruption along the quay. The quay can also be used as a layover quay for fishing vessels, both within and outside the fishing season.
There is easy access to supplies along the entire quay, and to ship waste and slop oil disposal. The quay is also located at the feet of major maritime service companies such as Nordsøtrawl, Egersund and Vest-EL.
Long quay with plenty of space
There is lots of space on the 400-metre-long Nordsøkaj. Industrial fishing vessels for pelagic and sand eel fishing can berth safely here. There is also easy access to maritime services at the quay.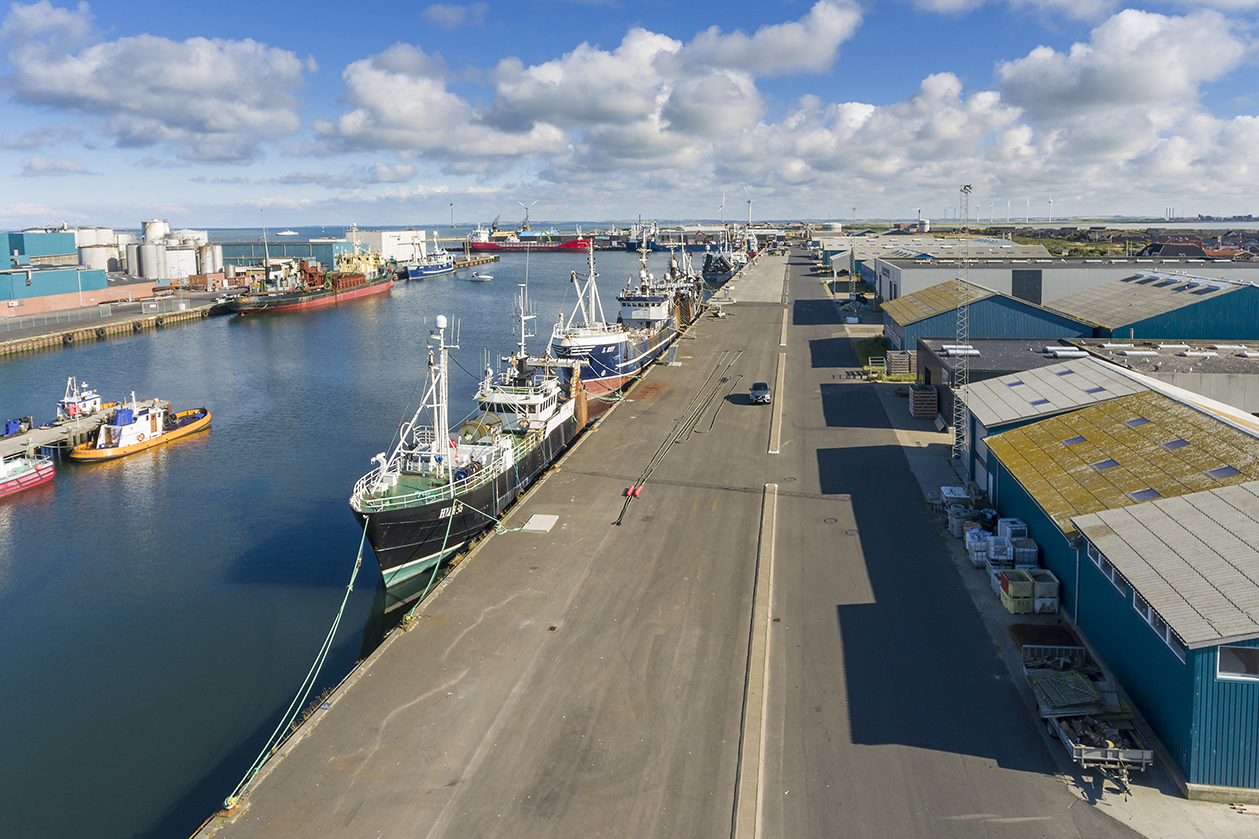 Trawl-stretching facilities on Nordsøkaj
Having a berth where the trawl can be inspected while the fishing vessel is in port makes a big difference, especially in the early summer months when industrial fishing is at its peak.
When fishing equipment has suffered damage, a rapid response from skilled seine and net makers can make a big difference. And they are based right on Nordsøkaj.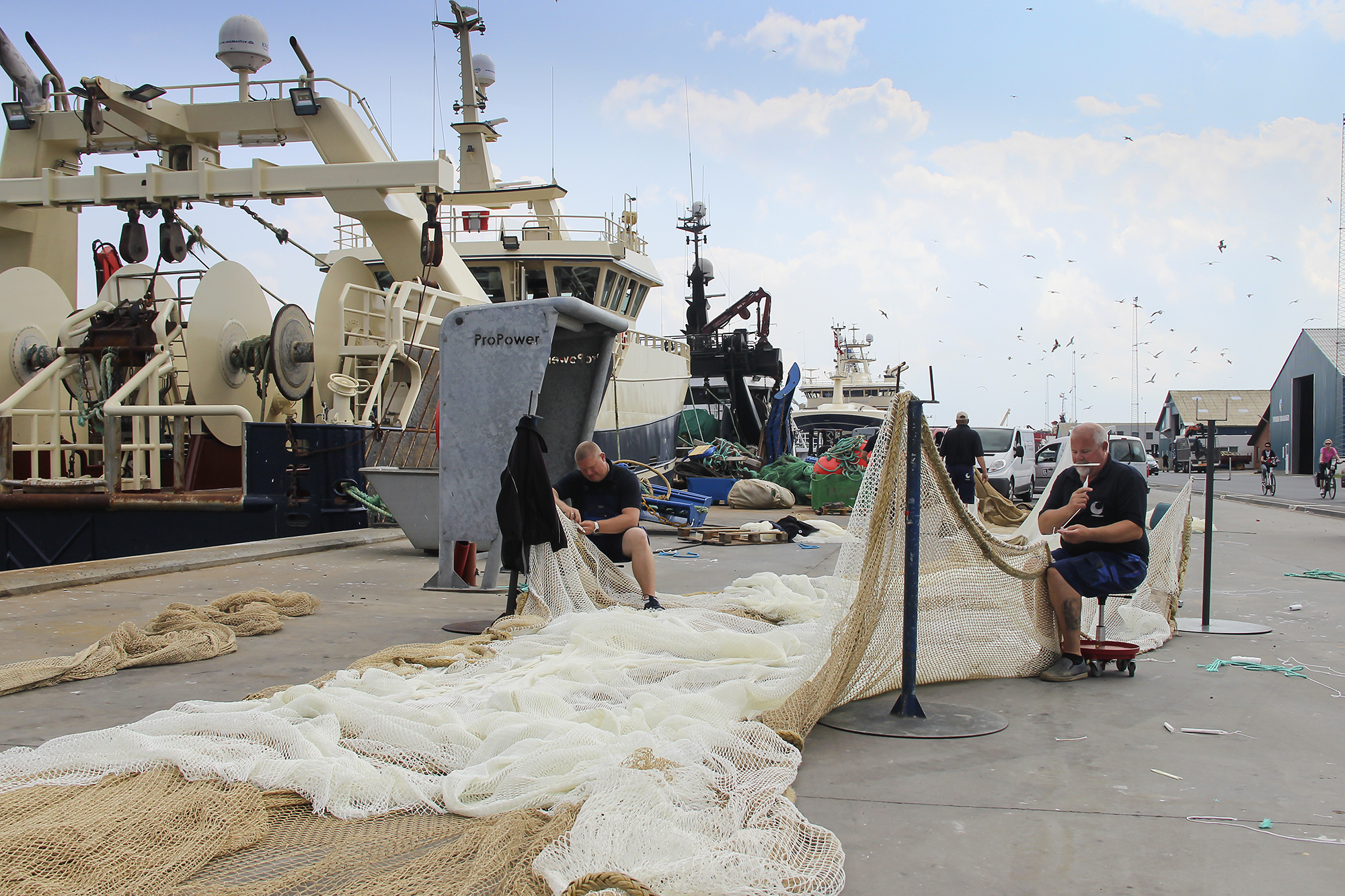 Easy access to power supplies
You can operate the power stands at the Port of Thyboron yourself as soon as you have registered as a user. There is power to suit different needs, with capacities of up to 125 amps.
El forsyning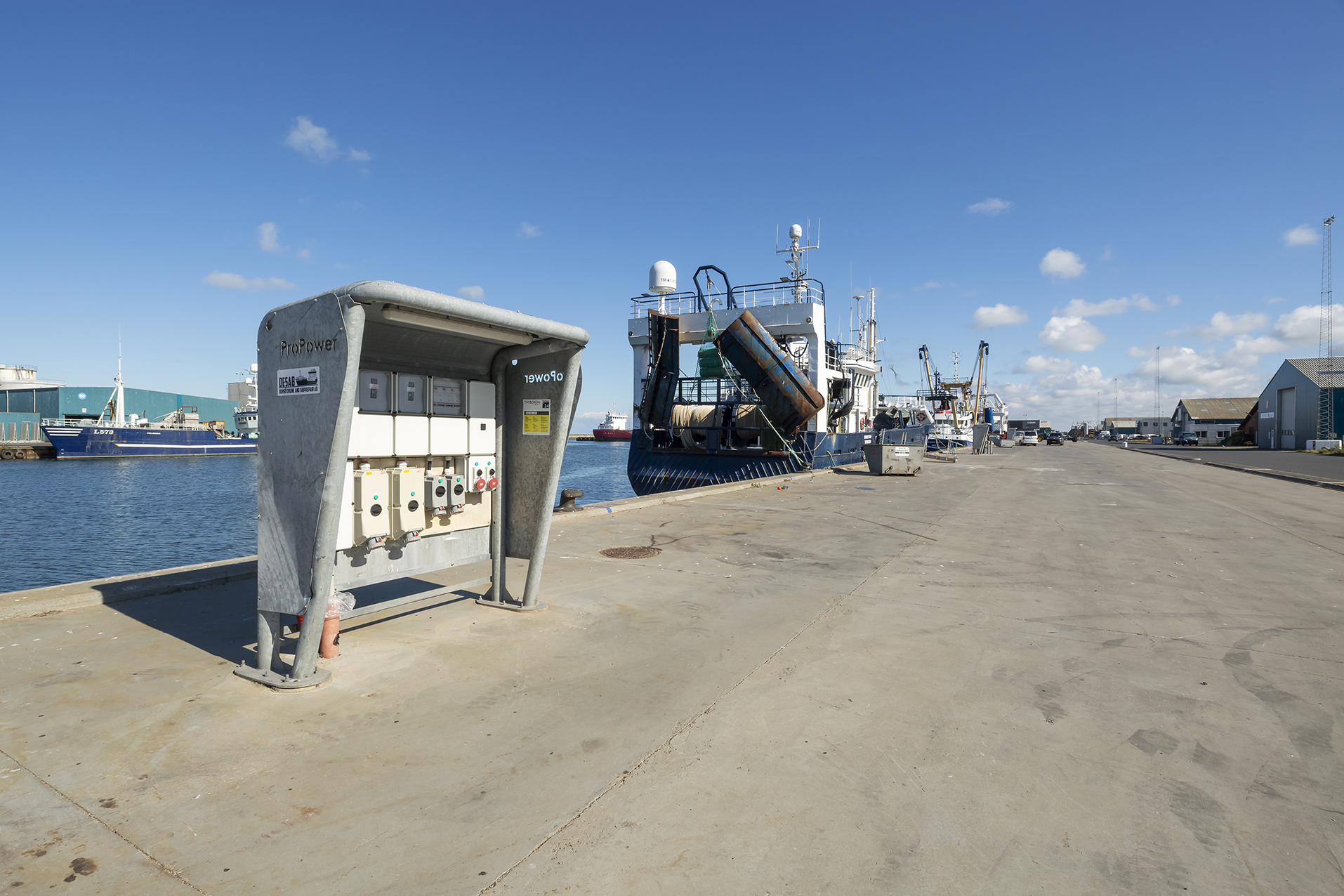 Concrete for heavy lifting and undisrupted work
Nordsøkaj has a strong concrete section on the quay for maritime services and ship repair. Cranes can lift heavy winches and ship engines on board from this area if the fishing vessel needs these changed. There is ample space for work on the concrete area, and the separation from the asphalt road ensures that work can be done without disruption while cars, forklifts and trucks pass by.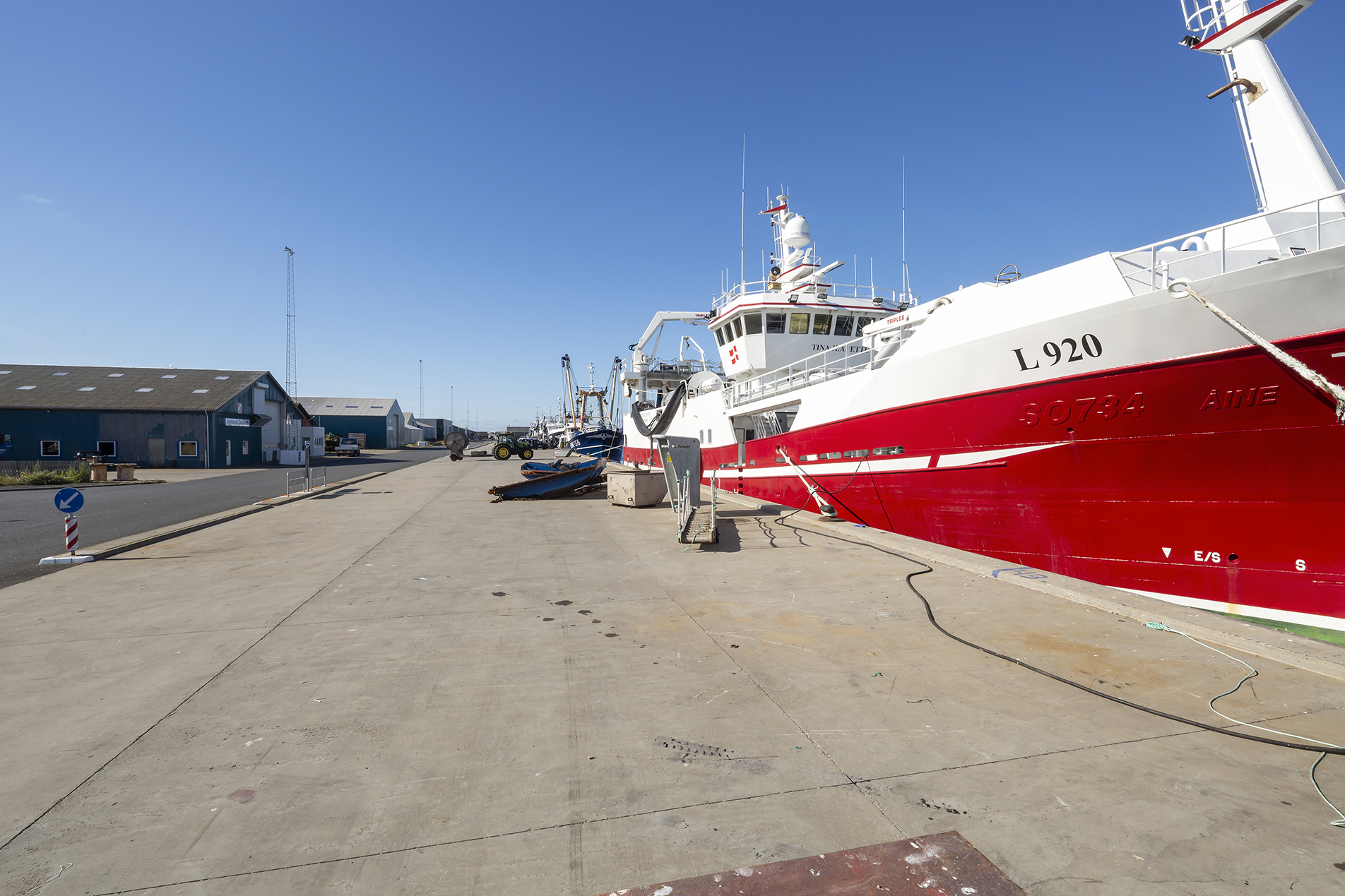 Maritime service companies along the quay
You will find experts in trawl making and electronics on Nordsøkaj at the Port of Thyboron. Electronics companies with more than 45 years of experience and world-leading trawl manufacturers, seine makers and trawl shovel manufacturers are based here.
Lokale services til fiskeriet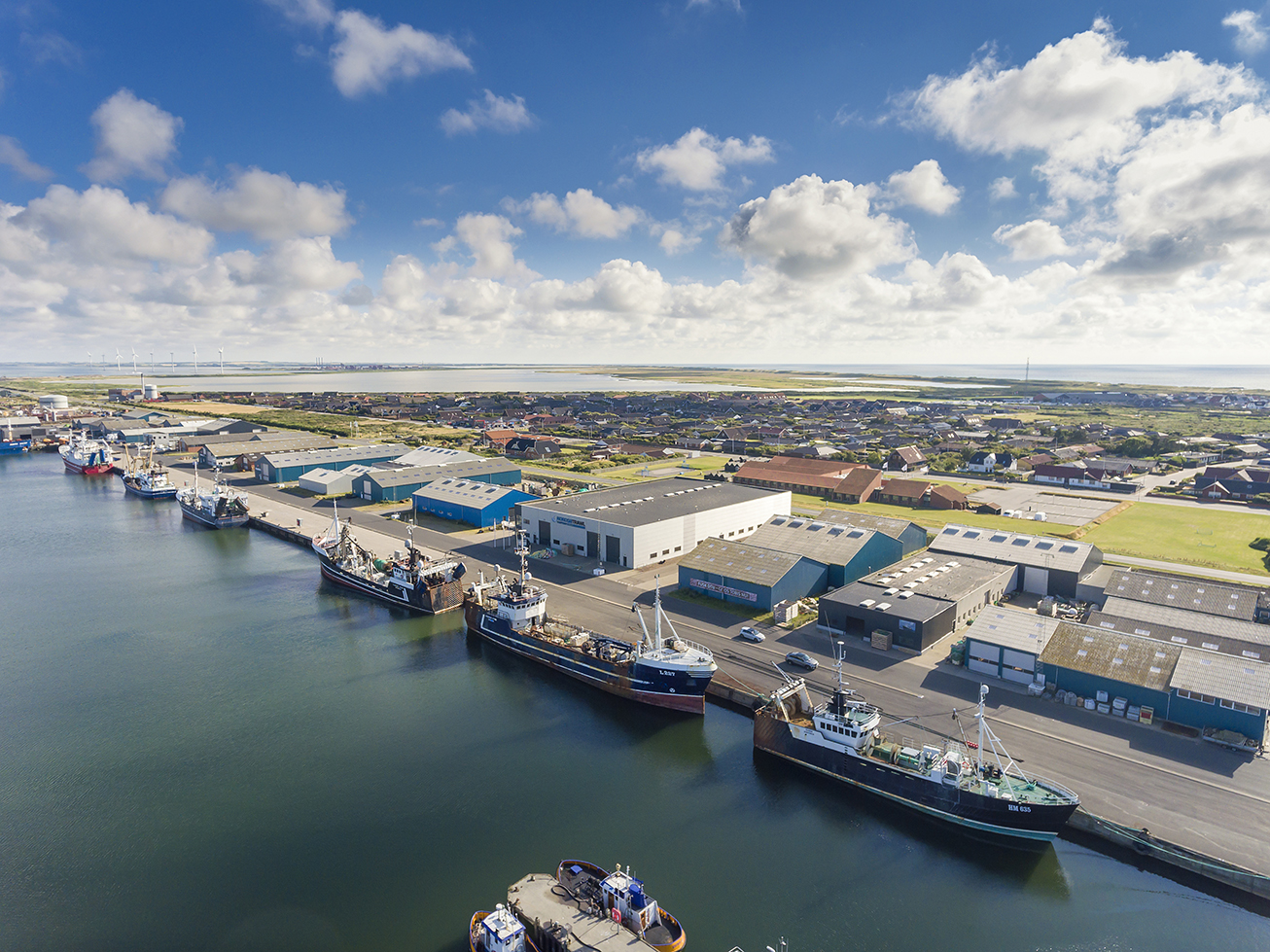 Technical Data - Nordsøkaj
Berth number
Berth 1

900

Berth 2

901*

Berth 3

1021

Berth 4

1022

Berth 5

1023
Navigation
Water depth, m

9

Water depth, berth 2 - 901, m

5

Port entrance corridor, m

75,8

Currents, kn

0
Quay facility specifications
Dimensions
Quay length, m

400

Quay width, m

15

Quay wall in m

2,15

Quay wall, berth 901, m

1,7

Capping beam width, m

0,7
Capacity
Bearing capacity, t per m2

2

Bearing capacity, Berth 2 - 901, t per m2

0,5

Distributet pressure, t per m2

2

Distributet pressure, Berth 2 - 901, t per m2

0,5

Outrigger pressure at 2X2 m plate, t

40

Outrigger pressure at 2X2 m plate, 2 m from quayside, t

80

Outrigger pressure at 4X2 m plate, t

80

Axle load, t

12
Type
Quay type, Sheet pile wall

✓

Surface type quay, concrete

✓

Surface type quay, asphalt

✓

Capping beam type, concrete

✓
Service
Accessible for cranes

✓

Accessibility for maritime service

✓
History
Construction year

1975 / 2006 / 2015
Quay equipment
Supplies
Power supplies

✓

Power stations on quay

8

Power connection point, 125 amp

✓

Power connection point, 63 amp

✓

Power connection point, 32 amp

✓

Water supplies at quay

✓

Wi-Fi, fiber connection

✓

Bunkering at quay

✓

Bunkering from barge

✓

Bunkering capacity l/min

70-80
Safety
Safety ladders, quantity

17

Safety ladders, type Galvinized Steel

✓

Distance between safety ladders, m

20

Safety point, quantity

5
Maritime equipment
Fenders diametre, m

1,5

Fenders width, m

0,55

Distance between fenders, m

4

Bollard, quantity

16

Bollard type, bean

✓

Bollard swl, capacity, t

20

Bollard swl, capacity, Berth 901, t

10

Distance between bollard, m

13

Bollard for pull test, numbers

1

Bollard for pull test, t

45
Environment
Slopoil disposal

✓

Waste disposal

✓

LED lightning, numbers

12
The environment is everyone's responsibility, and we make it simpler.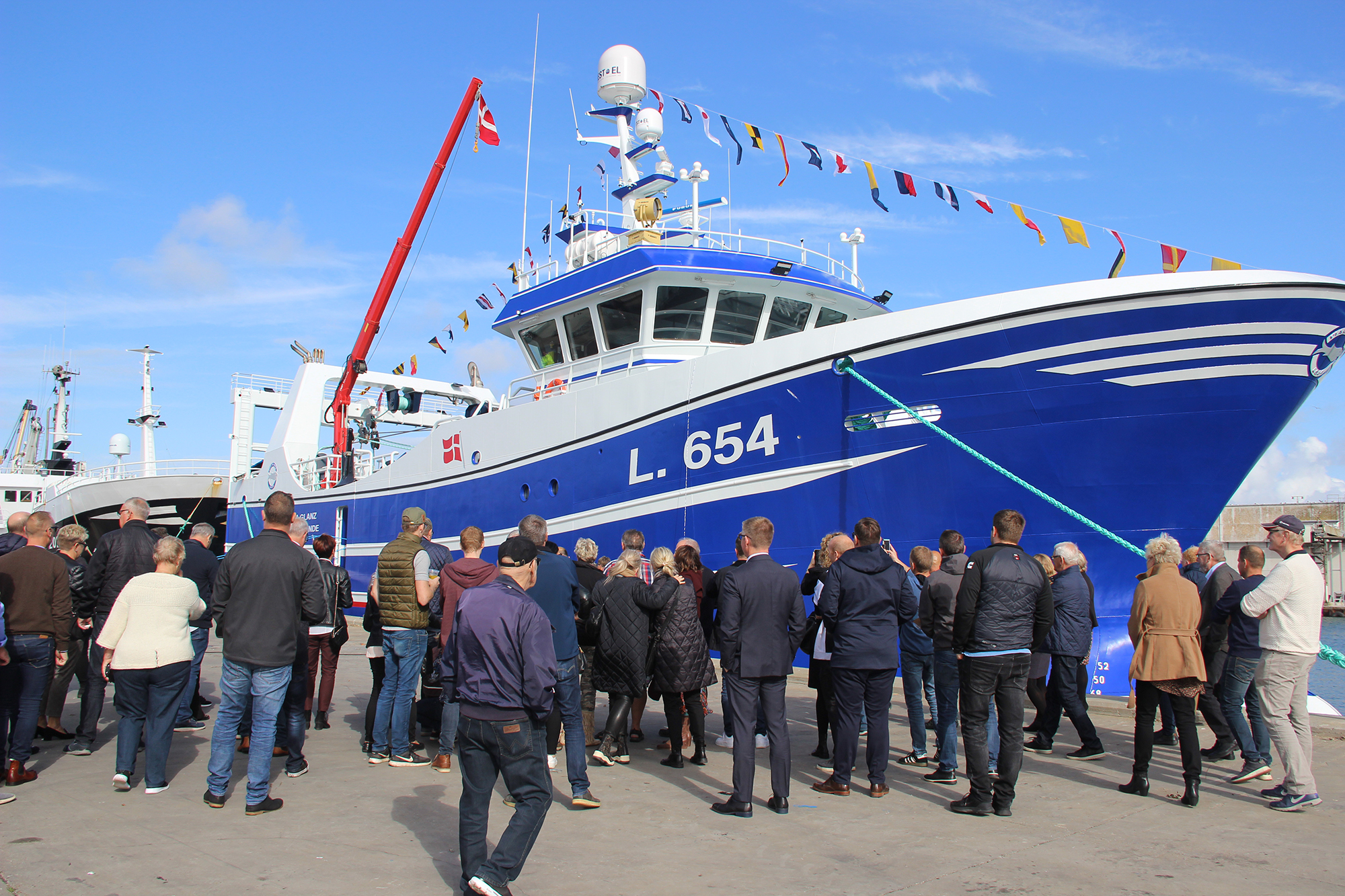 Christening and naming Pia Glanz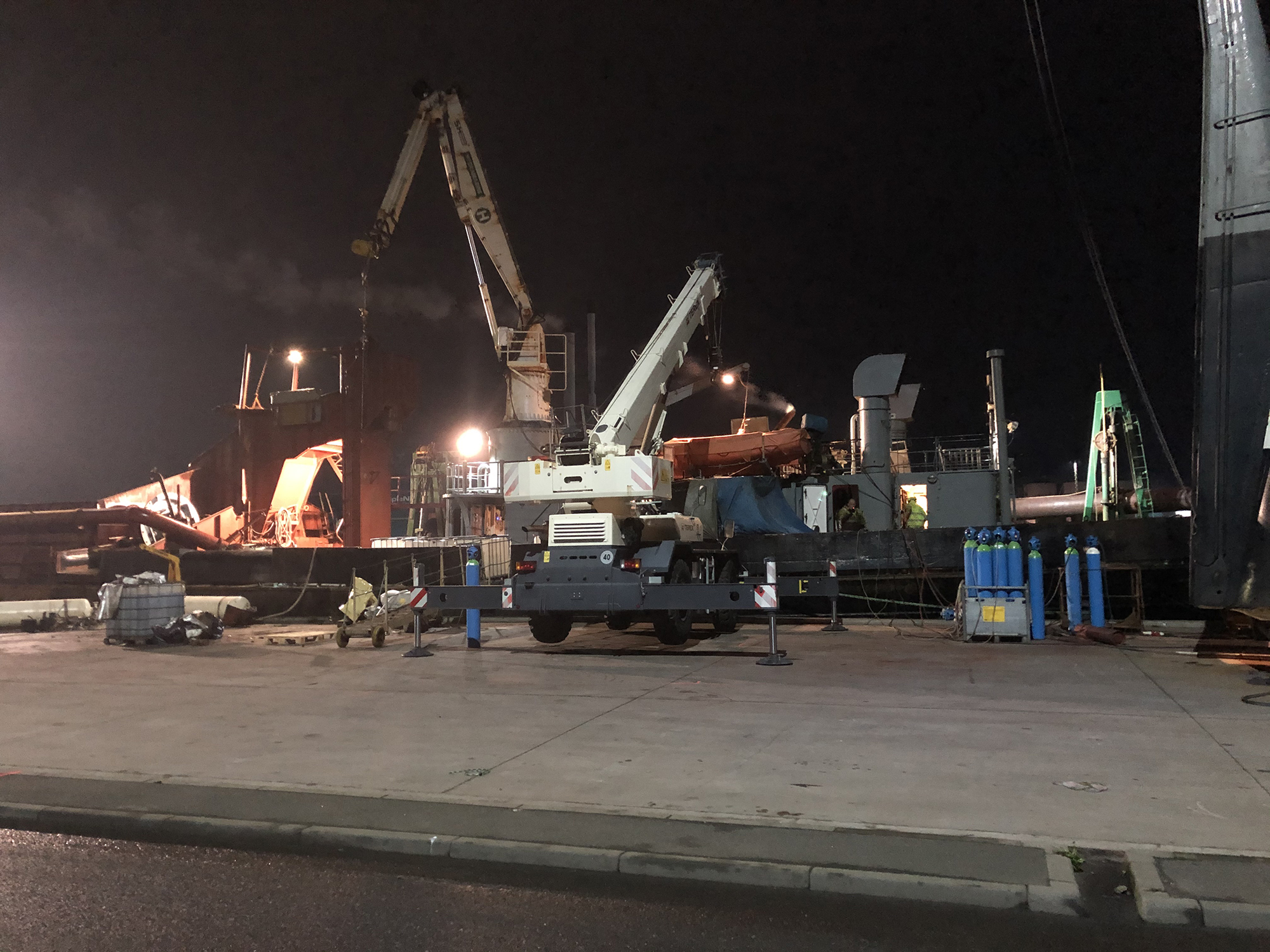 Terex crane in action on the strong concrete section