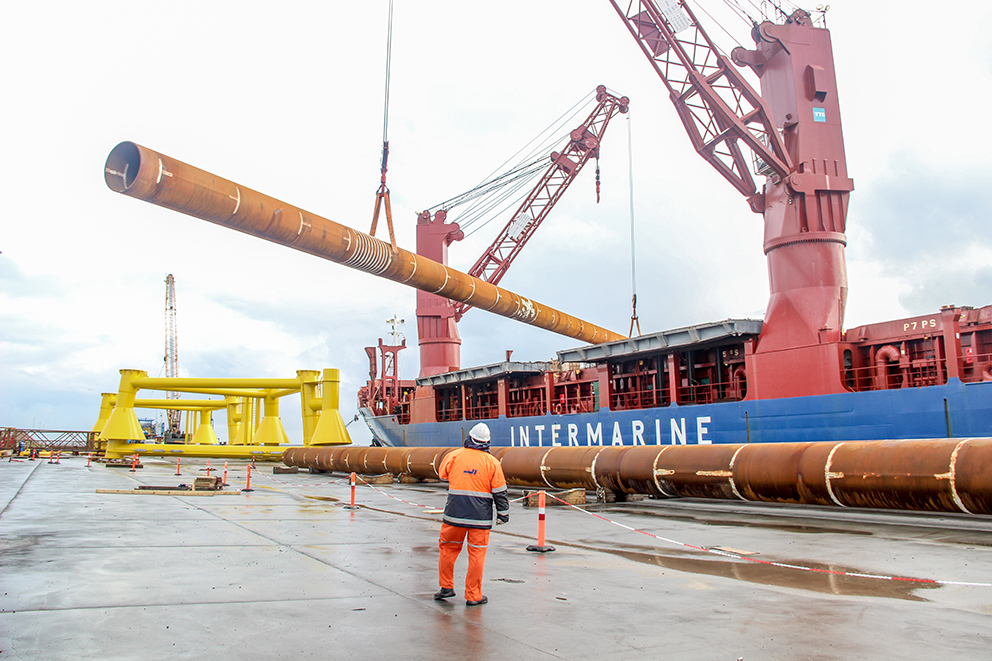 Limfjordskaj II
Heavy-lift quay for projects - Quay 2009, 2010
Project quay facilities for very heavy cargo
Construction of the project quay facilities in Sydhavnen in 2016 has increased capacity for heavy cargo at the Port of Thyboron and paved the way for a new activity in the form of project cargo handling and installation of offshore wind farms in the North Sea.
The project quay facilities are also ideal for mobilising offshore vessels and constructing special equipment and components that are too large to be transported by road and therefore have to take the sea route.
The vessels have easy access to water and electricity supplies at the quay, and can easily dispose of ship waste and slop oil. Limfjordskaj II is one of the quays at the Port of Thyboron where vessels have access to a sewerage connection.
Quay exclusivity can be arranged for installation and construction projects at the project quay. This ensures the vessel can berth at the quay as soon as it arrives.
Safe passage to the quay
The heavy cargo quay is well protected from the North Sea inside the Liim Fiord, with an east-facing entrance to the quay. Safe navigation to the quay in all weather conditions is guaranteed 365 days a year.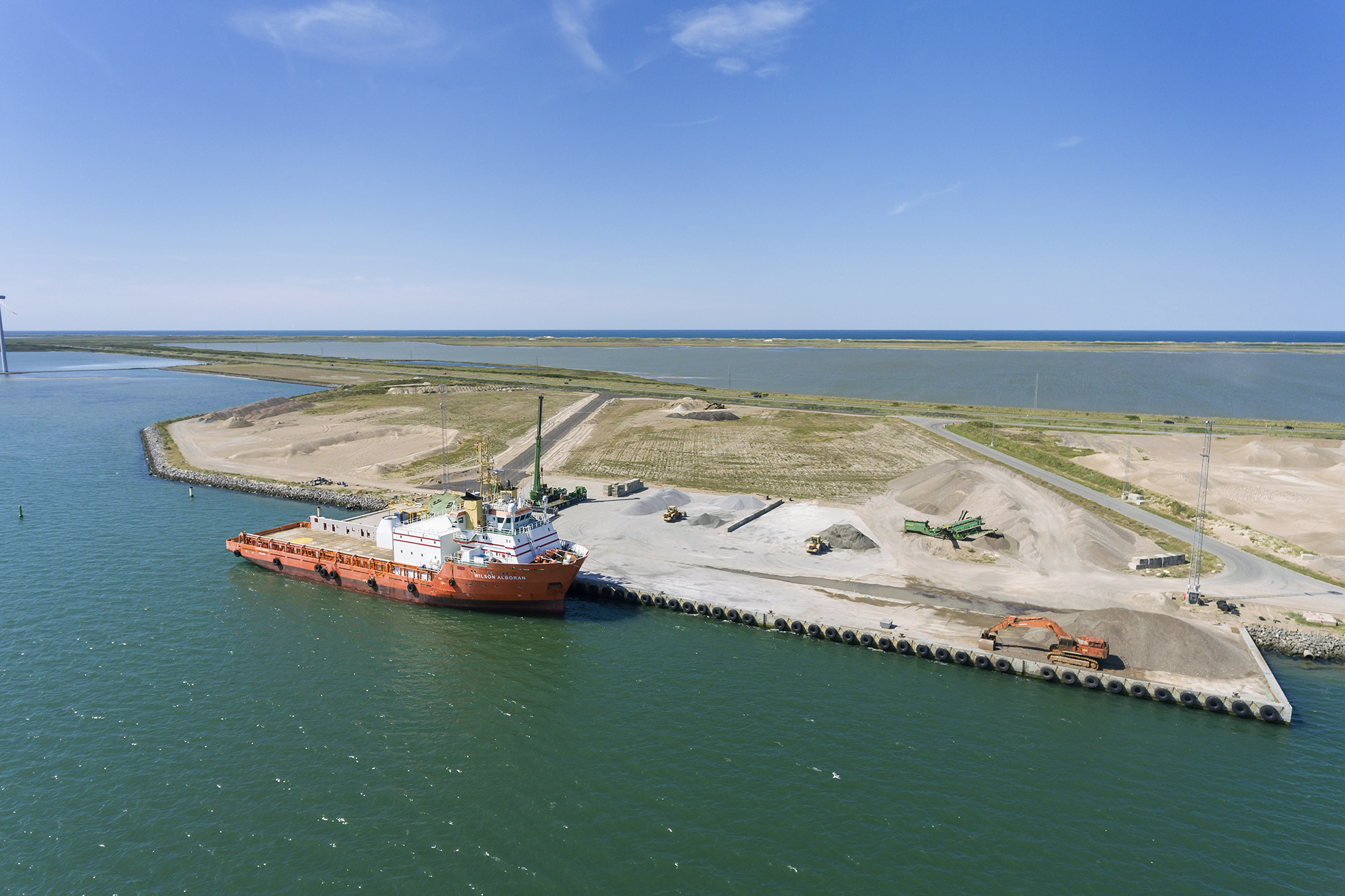 High capacity heavy cargo quay
The quay is designed for very heavy lifting. It has a load capacity of 23 tonnes per square metre and a point load of 430 tonnes. It is therefore no problem to lift even the heaviest transformers ashore on this quay.
Vessel gears may be used for loading and discharging and there is easy access for cranes at the quayside area.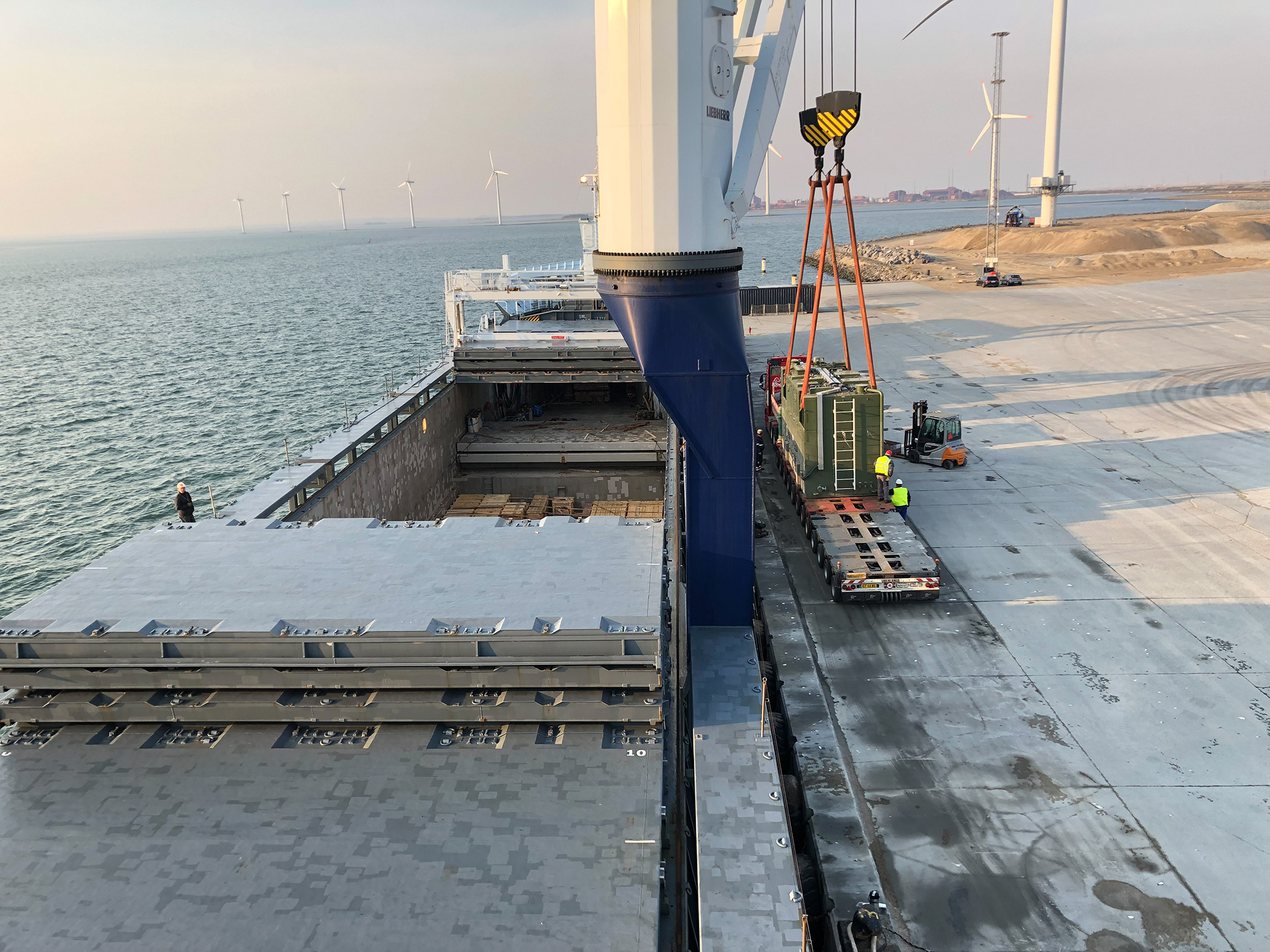 Lots of quayside land
There is ample space at the quayside for manoeuvring heavy cargo. There is 150,000 square metres of adjacent land for temporary storage near the quay. The facilities provide a good overview, which makes it convenient for trucks and mobile cranes to manoeuvre in the area.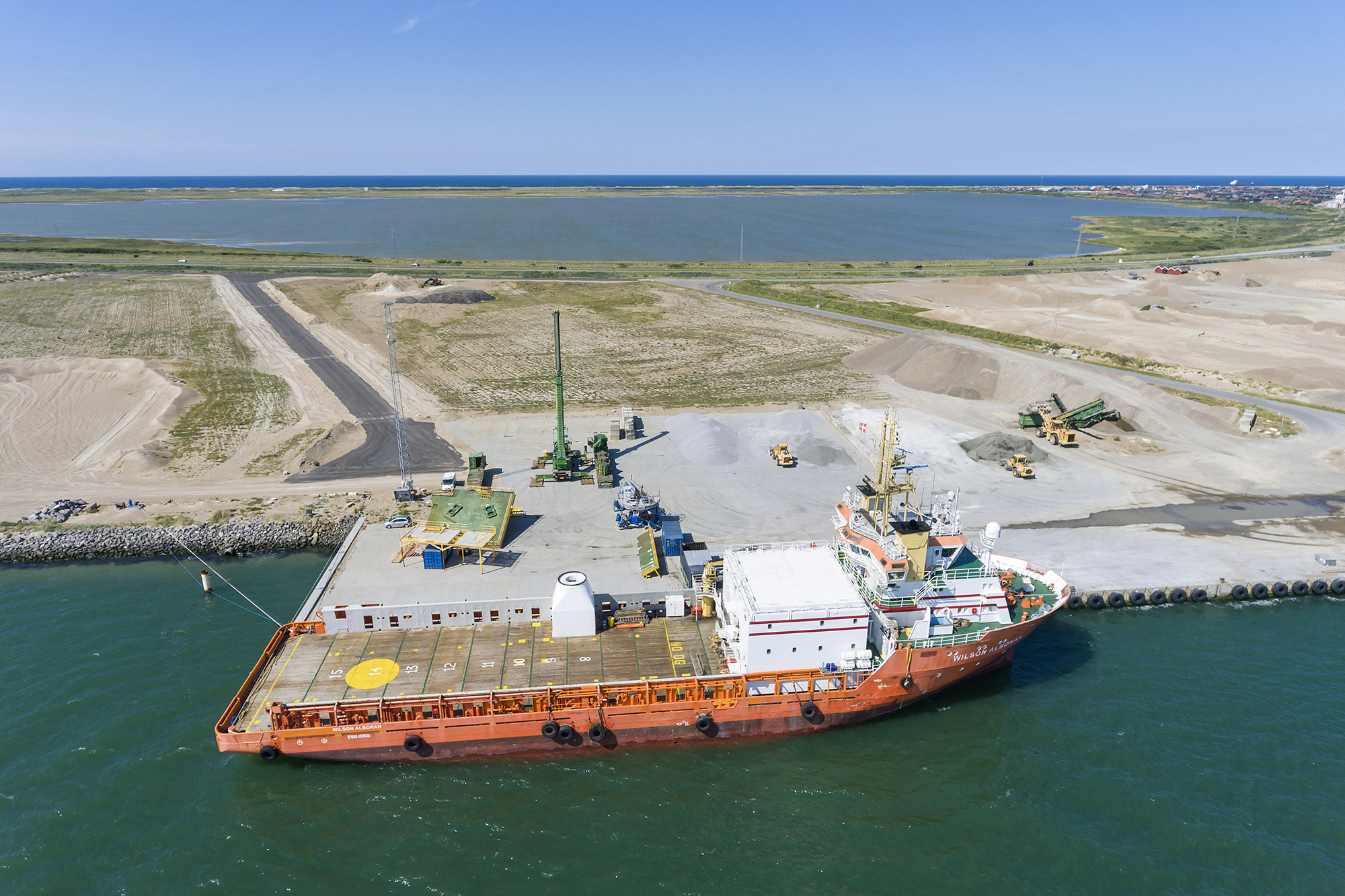 Good working conditions
The quay road on Limfjordskaj II is 30 metres wide. Behind the quay road, there is an additional 5,000 m2 of concrete pavement designed for heavy cargo manoeuvres, ensuring excellent working conditions at the quay facilities during component handling.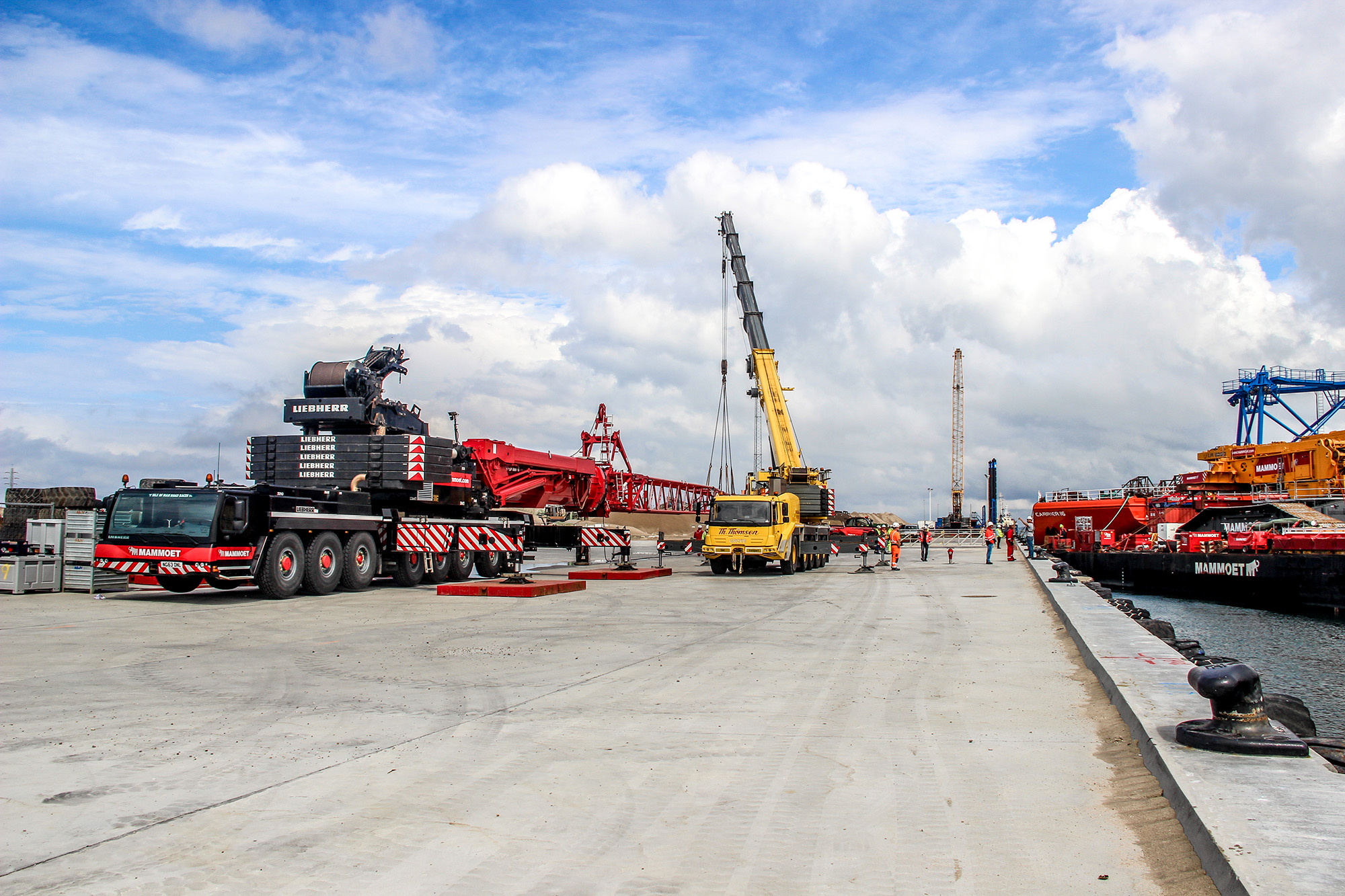 Easy access from quay to road
At the Port of Thyboron, the maximum distance from quay to main road is 500 metres. The harbour is being expanded parallel to the main road and away from the town centre. This makes life much easier for truck drivers and ensures a reliable workflow without delays and road congestion, even during the summer period.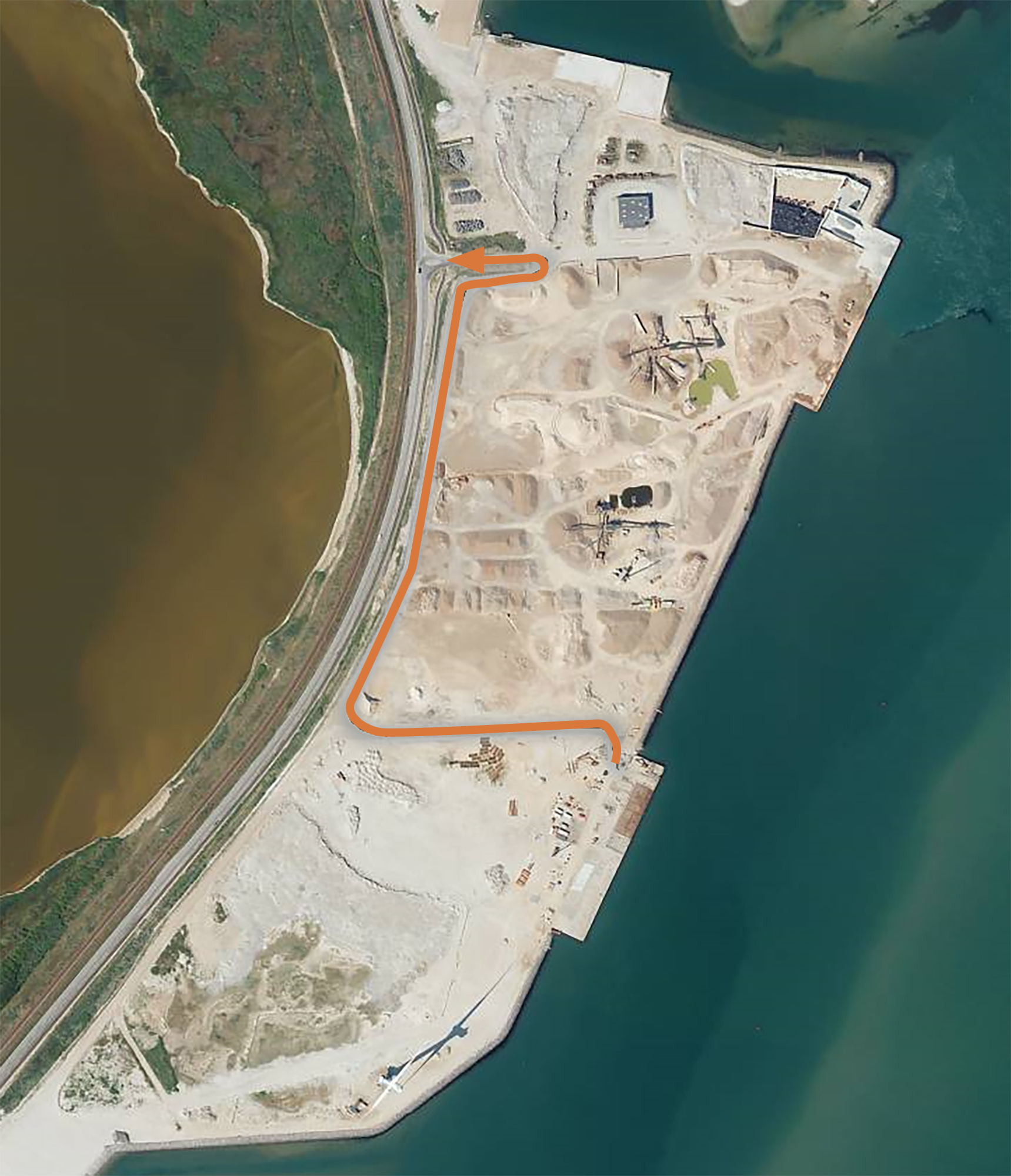 Storm bollards and capstans
Limfjordskaj II is equipped with two strong 150-tonne SWL storm bollards and two 75-tonne SWL storm bollards – one set north and one set south of the quay. The other 9 bollards at the quay are 50-tonne SWL. There are also two capstans, one north and one south of the quay, right next to the strongest storm bollards.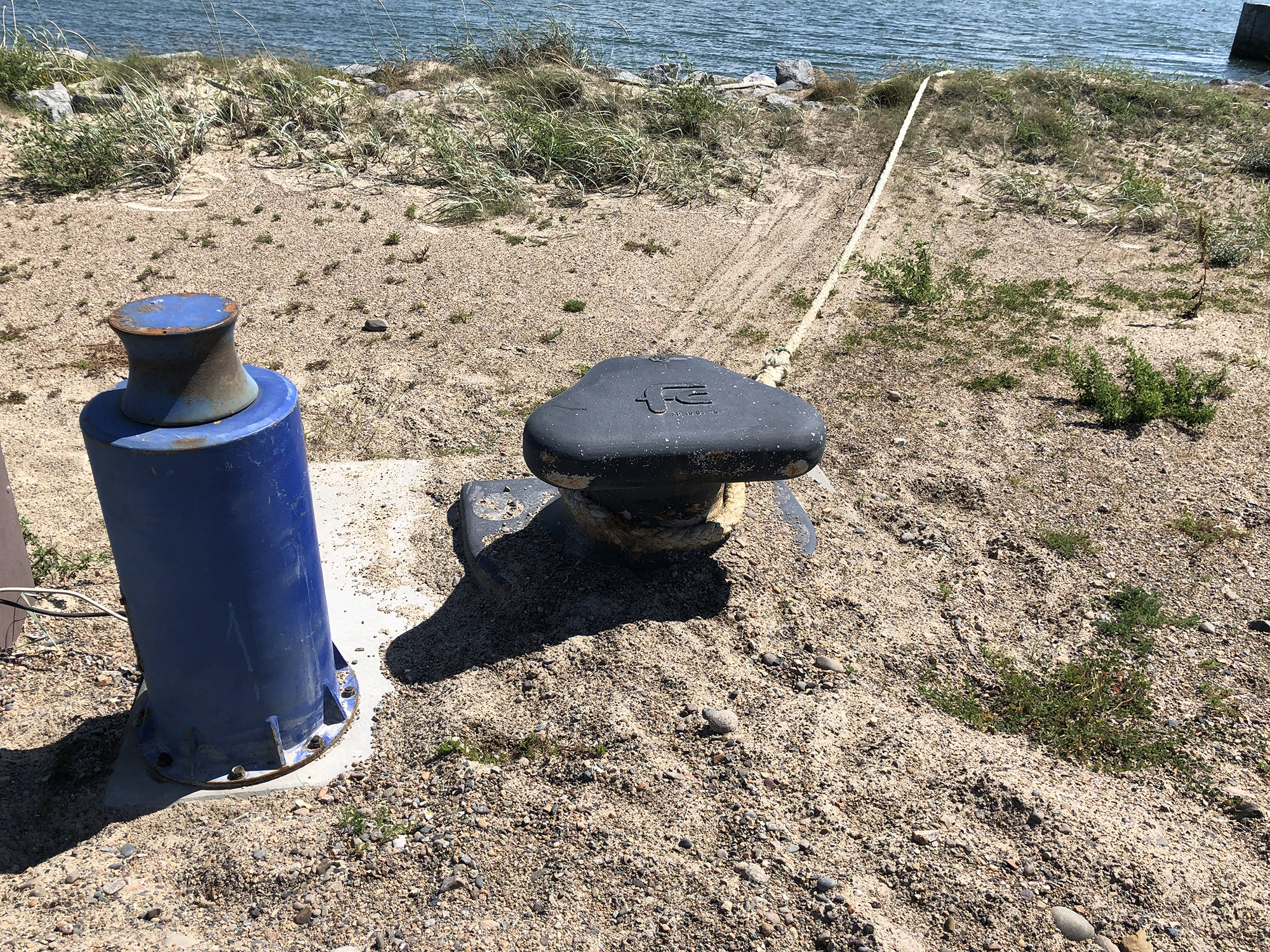 Also suited to bulk cargo handling
During periods when no offshore construction is underway, the project quay is used for numerous bulk cargo operations. The quay is also ideal for this purpose, with easy access for trucks and from the quay to the main road.
Infrastructure in the hinterland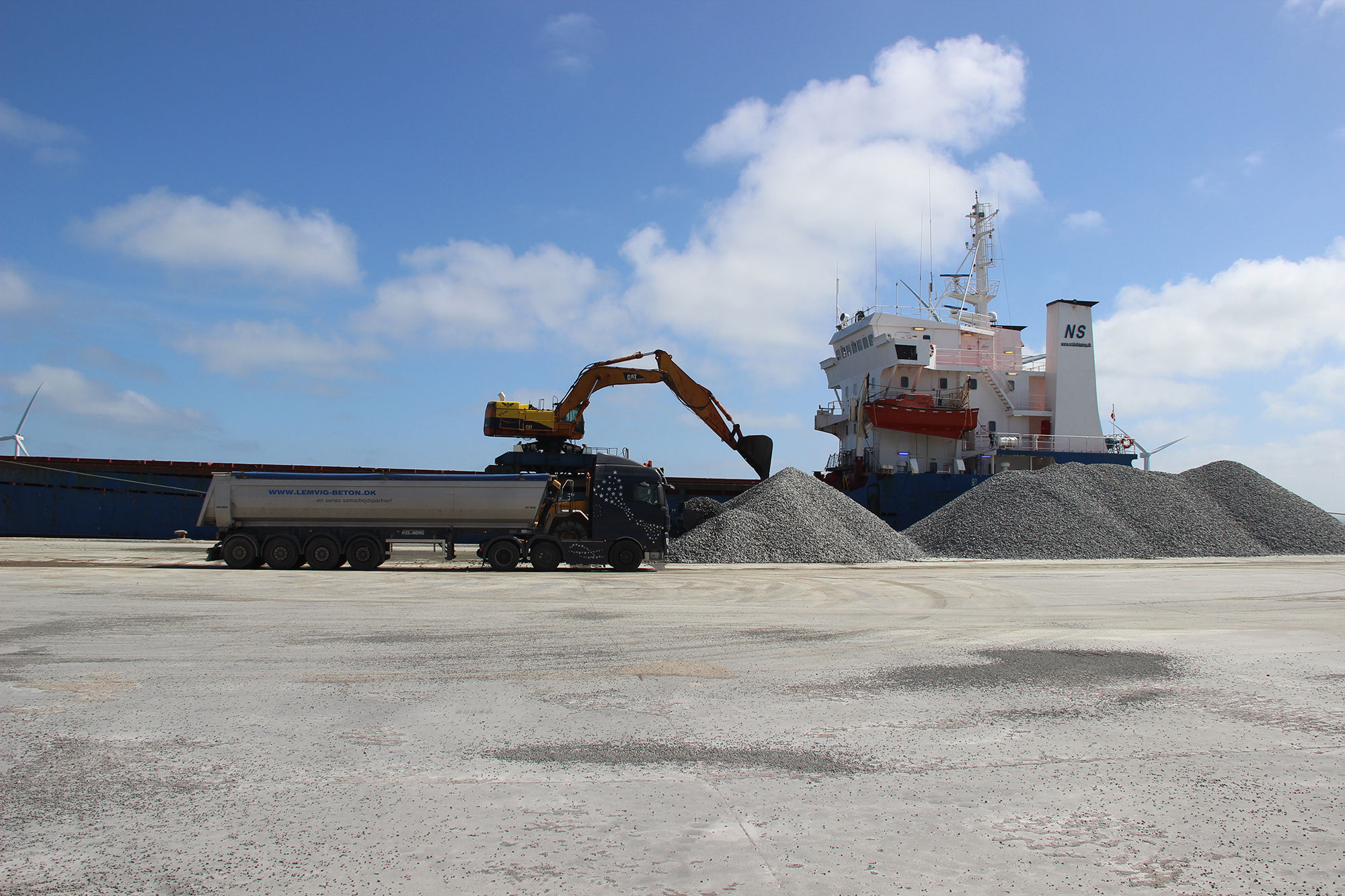 Technical data- Limfjordskaj II
Berth number
Berth 1

2009

Berth 2

2010
Navigation
Water depth, m

10

Turning area, m

180

Port entrance corridor, m

90

Currents, kn

1 (2)
Quay facility specifications
Dimensions
Quay length, m

180

Quay wall in m

2,2

Quay width, m

30

ISPS gate, width, m

5

ISPS gate, heavy haulage, width, m

20
Capacity
Bearing capacity, t per m2

23

Distributet pressure, t per m2

430

Point load, t

430
Type
Quay type, Sheet pile wall

✓

Capping beam type, concrete

✓

Capping beam width, m

1

ISPS

✓

Surface type quay, concrete

✓

Heavy lift quay facilities

✓
Service
Accessibility for maritime service

✓

Accessible for cranes

✓
History
Construction year

2016
Quay equipment
Supplies
Power stations

✓

Power stations on quay

2

Power connection point, Power station 1, 125 amp

2

Power connection point, Power station 2, 63 amp

4

Power connection point, 32 amp

✓

Water supplies at quay

✓

Water hydrants on quay

2

Water feed capacity, tons or m3 per hour

100

Wi-Fi, fiber connection

✓

Bunkering at quay

✓

Slopoil disposal

✓

Waste disposal

✓
Maritime equipment
Fenders diametre, m

1,8

Fenders width, m

0,75

Distance between fenders, m

0,8

Bollard, quantity

9 & 4

Bollard type, bean

✓

Bollard swl, capacity, t

50, 75 & 150

Distance between bollard, m

21

Capstan at quay

2

Duc d'albe at quay

2
Safety
Safety ladders, quantity

6

Safety ladders, type Galvinized Steel

✓

Distance between safety ladders, m

42

Safety point, quantity

2

Safety requirements , safety helmet

✓
Environment
LED lightning, numbers

2

LED working lights, amount

2

Sewage

✓

Slopoil disposal

✓

Waste disposal

✓
Hinterland at the quayside
Dimensions
Onshore area at quayside, m2

150000

Project area, m2

5000

Project area width, m2

102

Project area depth, m

51

Concrete-surfaced felt areas, m

5x5

Storage area, m2

100000
Capacity
Bearing capacity, project area at quayside, t per m2

23

Surface thickness, project area, cm

23

Bearing capacity, quayside storage area, t per m2

50

Surface thickness, quayside storage area, cm

40
Type
Surface type project area, concrete

✔

Surface type, storage area, hard core

✔
The environment is everyone's responsibility, and we make it simpler.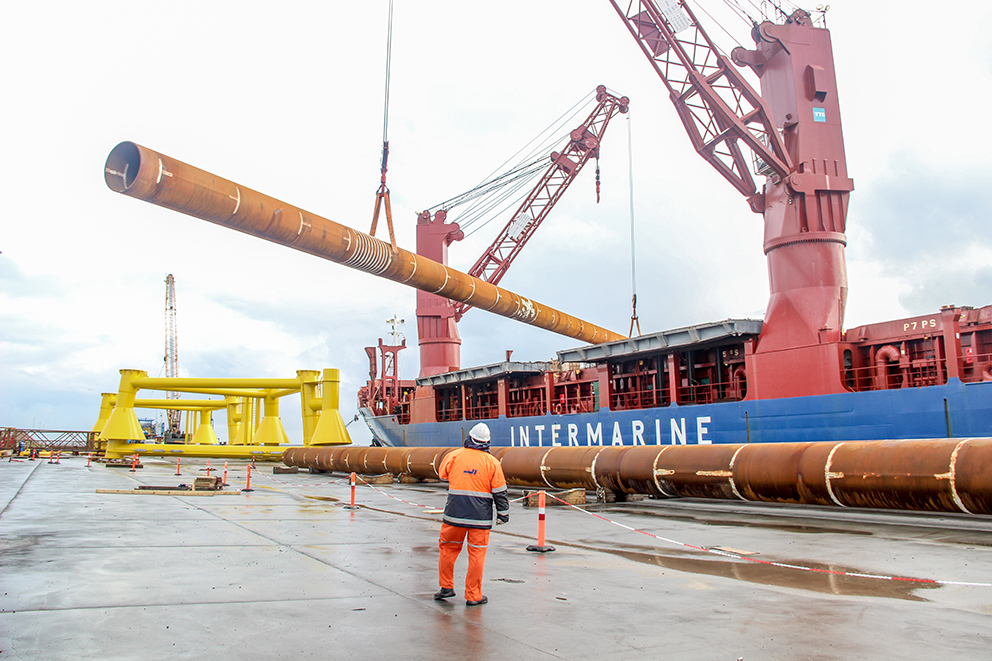 Industrial Dolphin berthed – lifting piles for offshore installation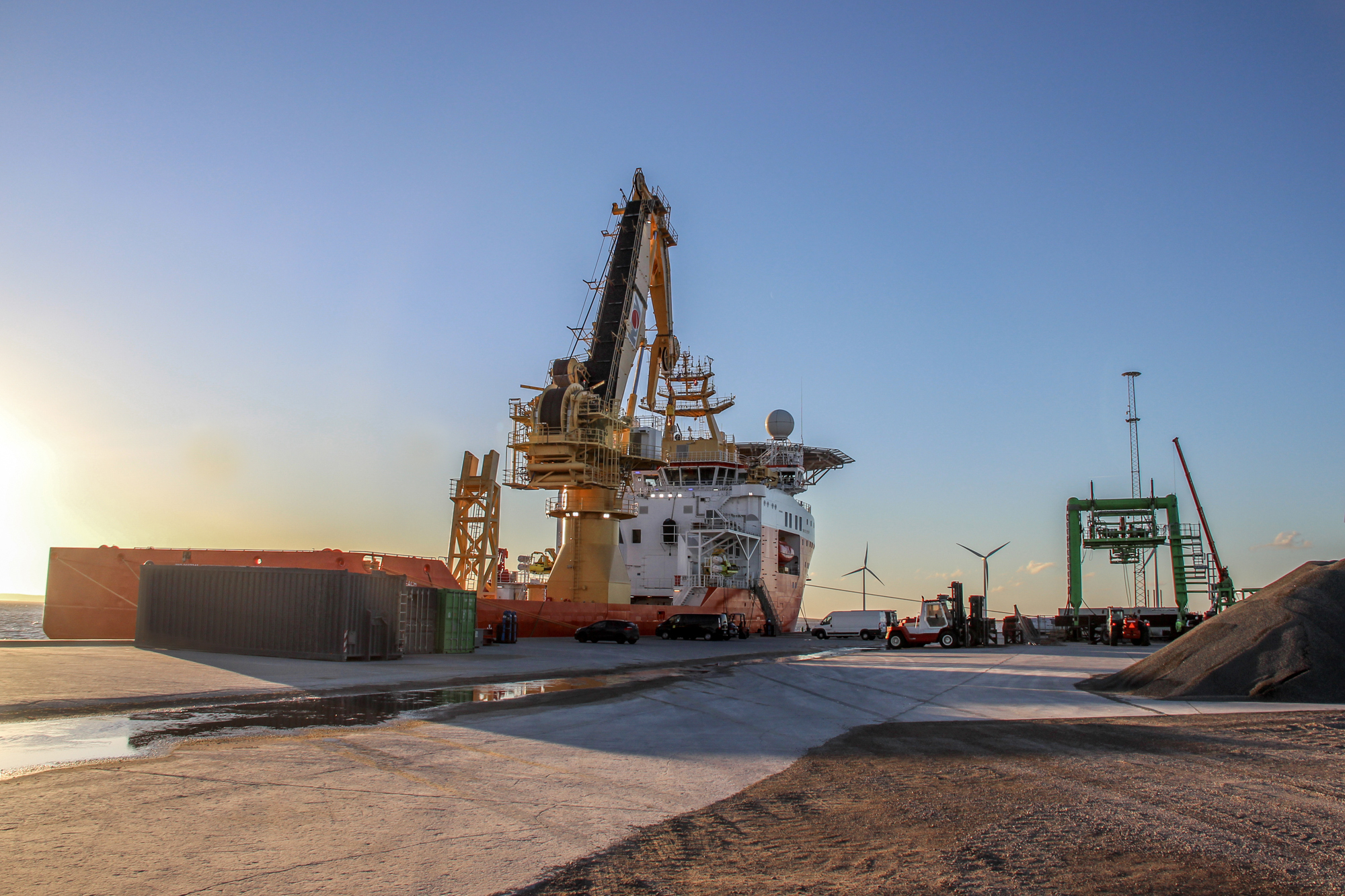 Mobilising an offshore supply vessel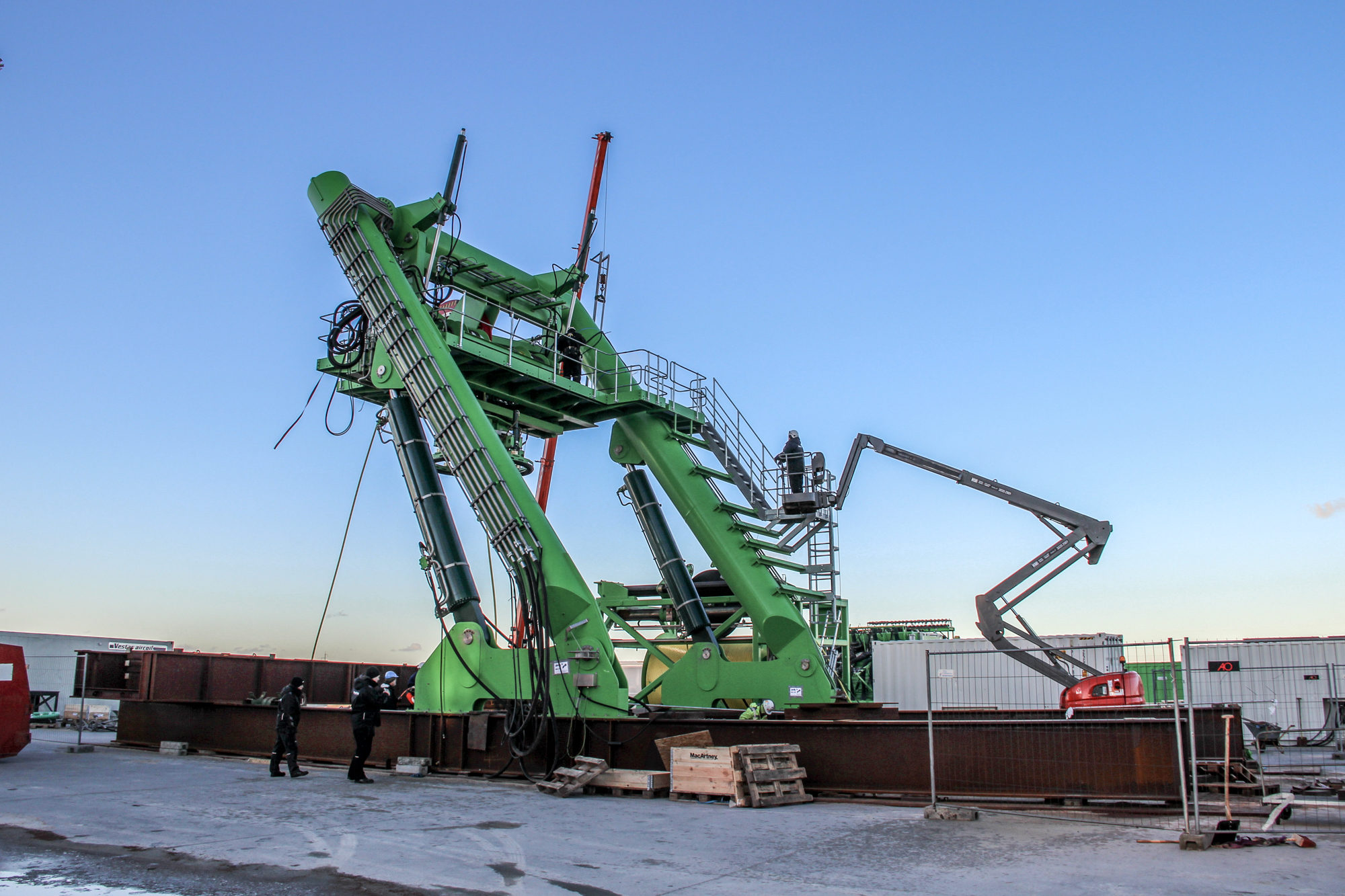 Quayside construction of special equipment