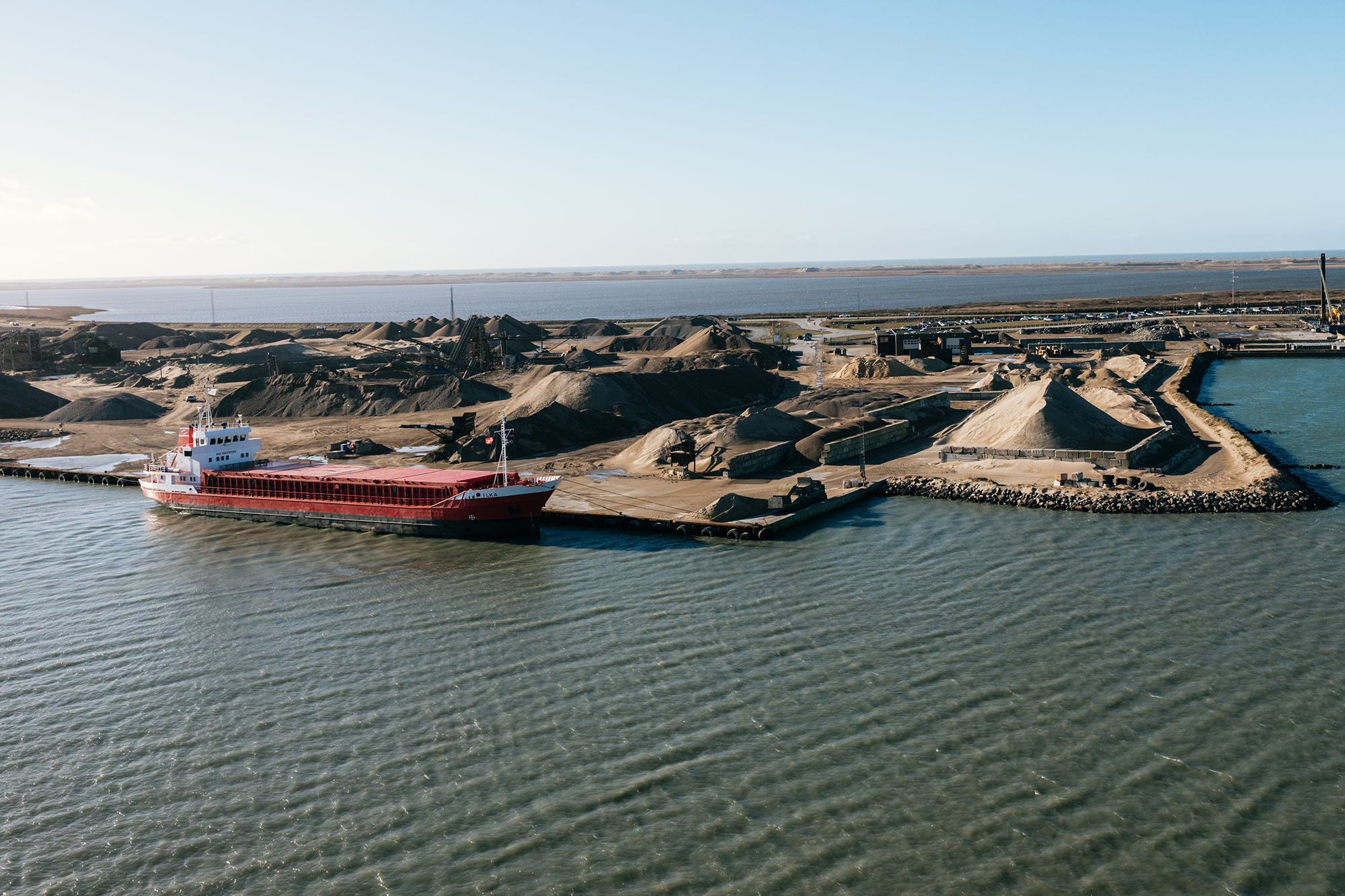 Limfjordskaj I - DKTYB-0003
Terminal for gravel sorting - Kaj 2003, 2004
Cargo terminal dedicated to marine rubble
Close cooperation creates the best facilities, and Limfjordskaj I is a great example of this. The quay was built in 2007 in close cooperation with raw material suppliers, for the purpose of sorting and preparing marine rubble from Jyske Rev.
Thyboron is currently Denmark's largest gravel handling port. Gravel operations date back to 1996, when they moved into the port after samples were taken of gravel quality at Jyske Rev in the North Sea. The gravel is high quality and very popular in the concrete and construction industry, for building roads, buildings, bridges and tunnels in Denmark and other European countries such as Germany, the Netherlands and Belgium.
Today, 100,000 m2 of quayside land houses two raw material suppliers – Thyborøn Nordsø Ral A/S and Kroghs A/S – who supply gravel to the construction industry in Denmark and abroad.
Vessels have easy access to supplies while in port, and waiting times are minimised, as the companies work together and coordinate their deliveries.
Easy access conditions for front-end loaders
When a ship arrives carrying gravel, the large machines have easy access for collecting the gravel for sorting. The quayside land has been set up as a customer-specific solution.
The volume varies from year to year. Between 1.3 and 1.5 million tonnes of sand and gravel are handled at the Port of Thyboron each year.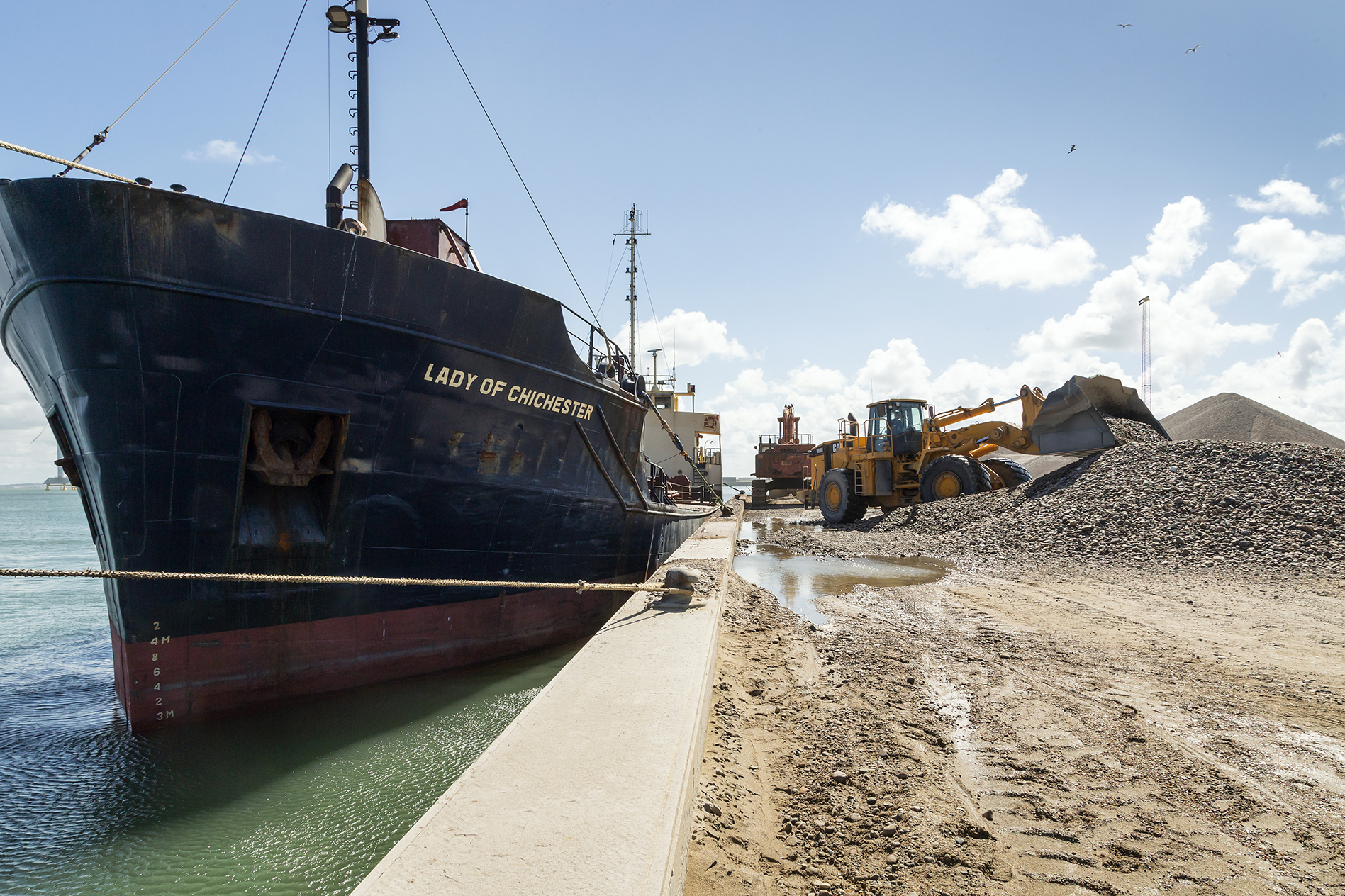 Room for multiple vessels at a time
The large marine rubble dredgers need plenty of space, both in front of and behind the quay. The turning area also has to be large, and is 200 metres in diameter at Limfjordskaj I.
The vessels do not have time to wait for a berth to become vacant. They are equipped to place the gravel far in on the quay. This provides some flexibility for multiple vessels to be unloaded simultaneously, or for unloading while another vessel is being loaded.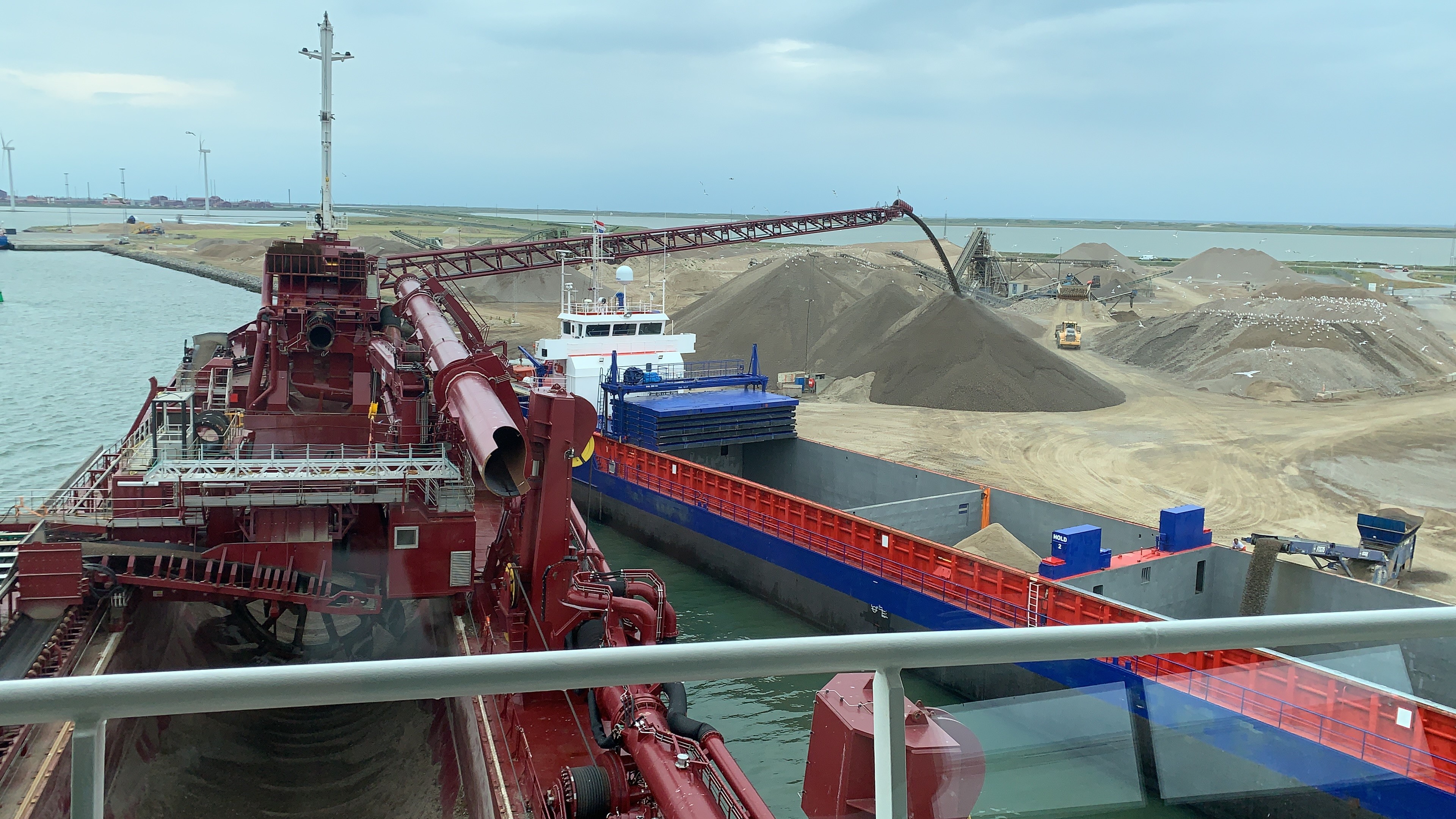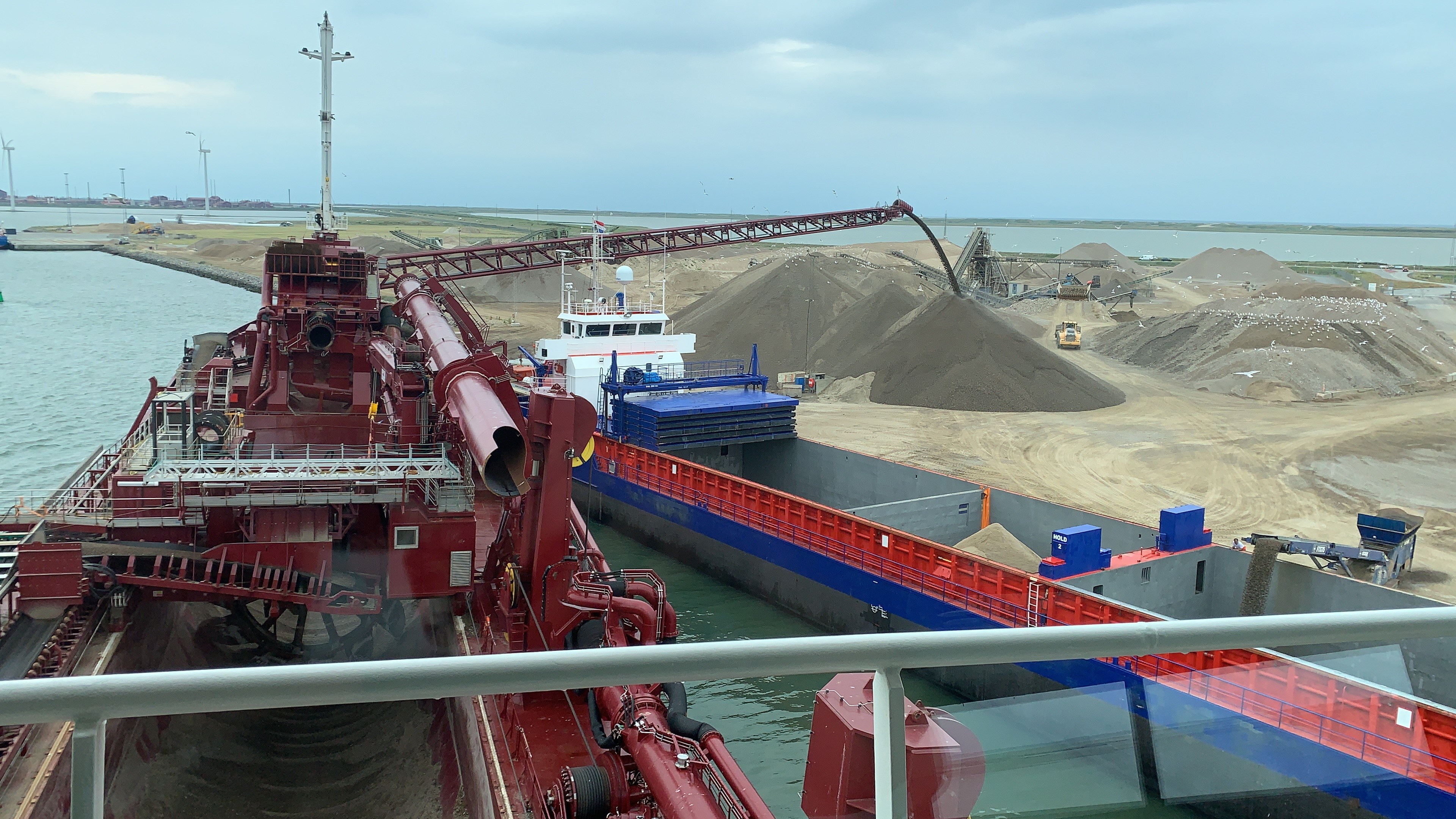 Quay with adjacent land for sorting gravel
Two gravel companies have been established at the port facility in Thyboron, each with their own land and logistics setup, with a sorting system and storage.
The operations require a lot of space, and Limfjordskaj I provides this with 100,000 m2 of adjacent land.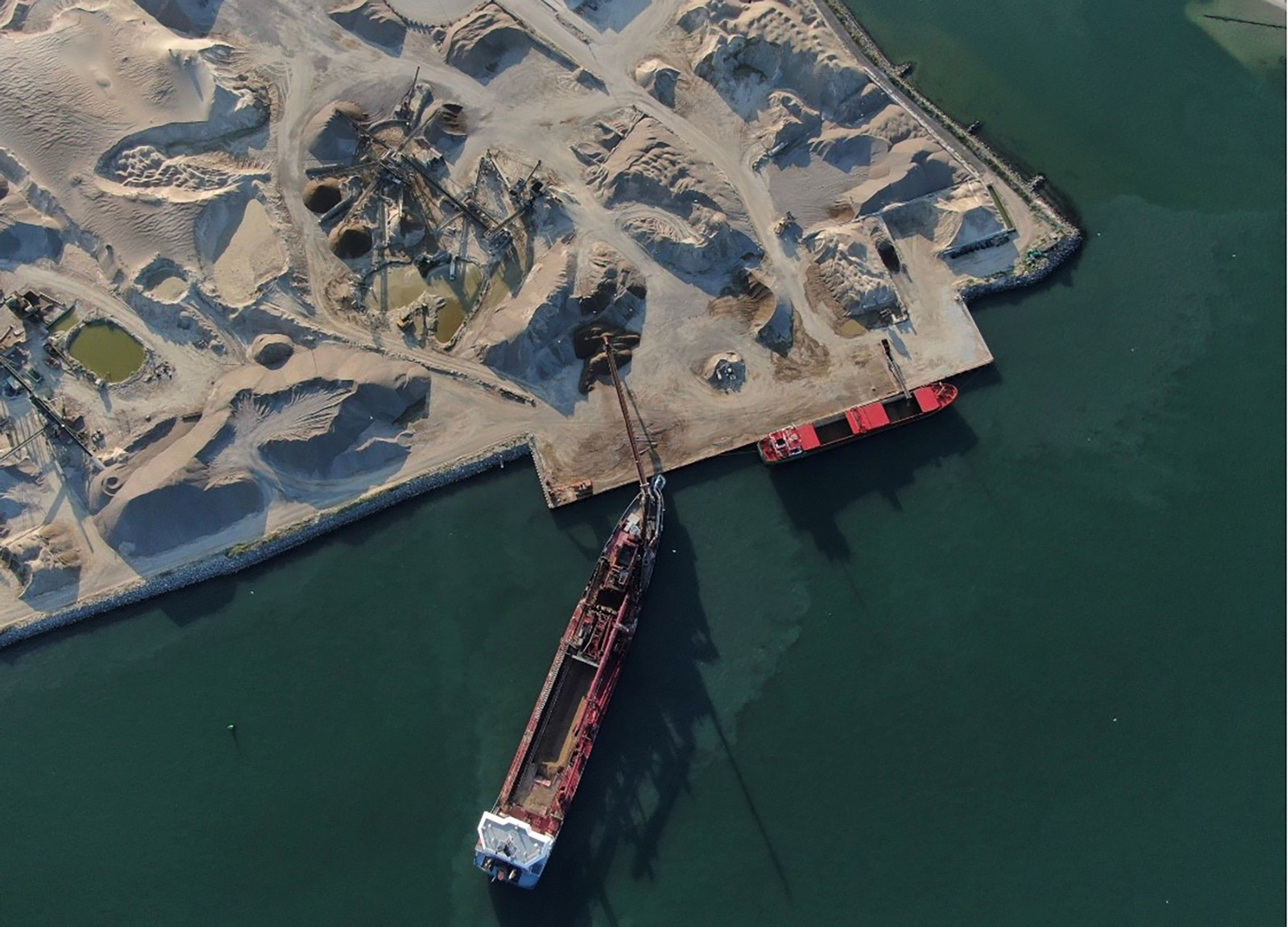 ISPS-compliant port area
Limfjordskaj I is located in an ISPS-compliant area of the port with gate access. The companies can therefore work safely and without disruption in this area with their large front-end loaders, and store their final products.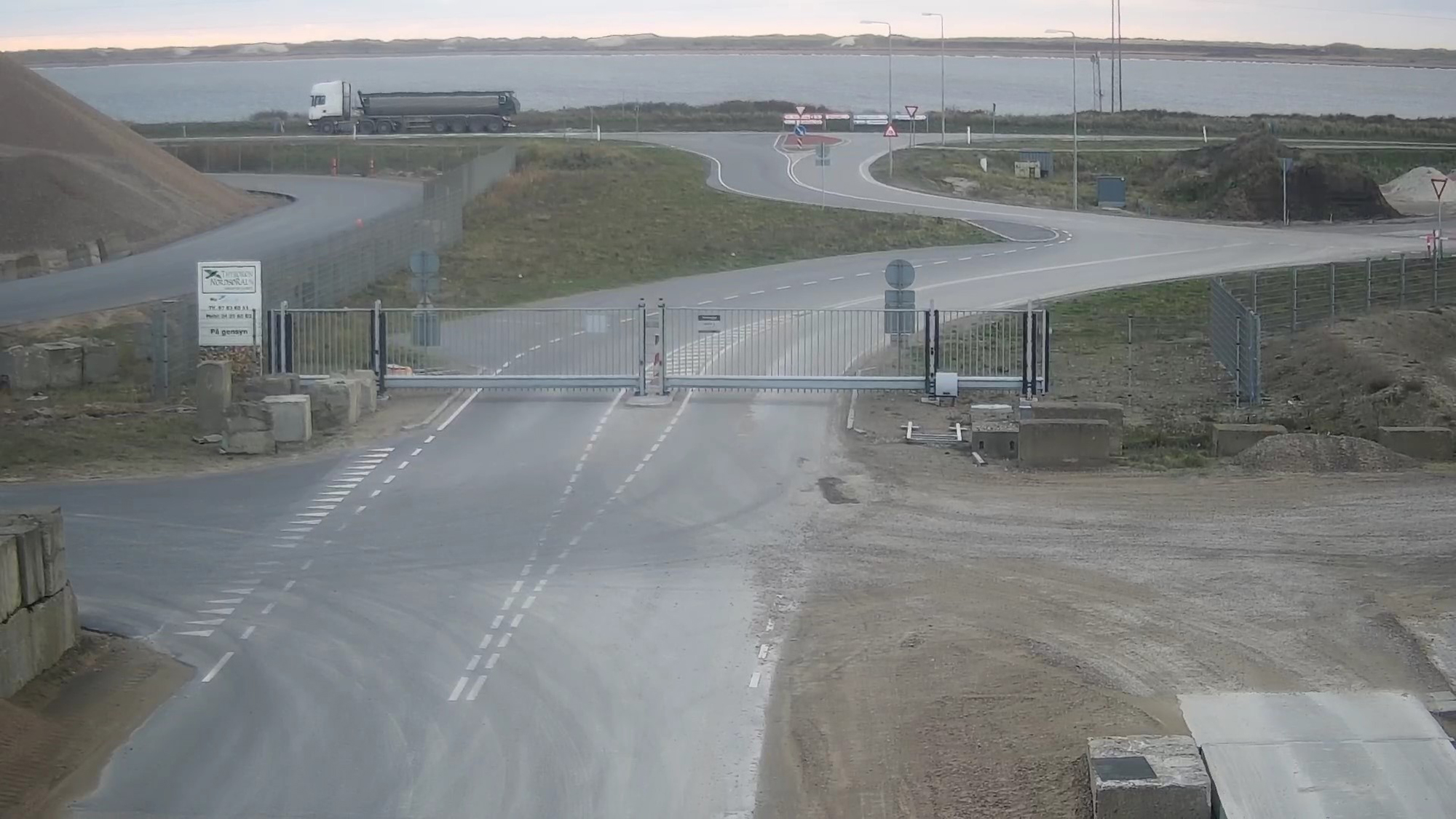 Quick access from quay to road
The terminal is right next to the main road. There is easy road access and no town centre to pass.
Final products are being increasingly shipped to customers by sea, but it offers good flexibility to also have easy and safe access for trucks.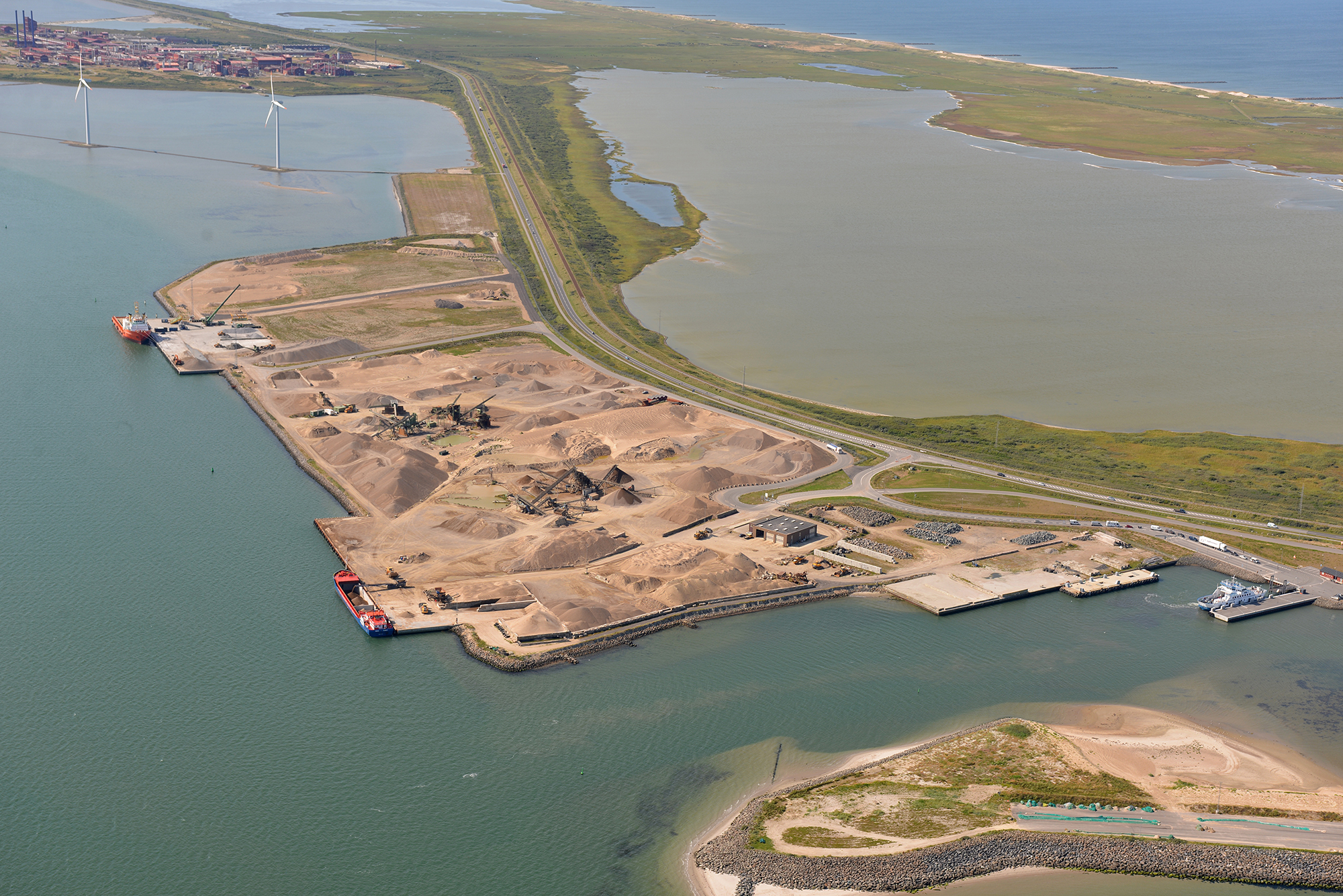 Bridge scales for weighing loads on trucks are located at the entrance to the gravel area and are operated by Thyborøn Nordsø Ral A/S
Technical data- Limfjordskaj I
Berth number
Berth 1

2003

Berth 2

2004
Navigation
Water depth, m

9

Turning area, m

200

Port entrance corridor, m

200

Currents, kn

1 (2)
Quay facility specifications
Dimensions
Quay length, m

180

Quay wall in m

2,1

Quay width, m

30

ISPS gate, width, m

5

ISPS gate, heavy haulage, width, m

20
Capacity
Bearing capacity, t per m2

2

Distributet pressure, t per m2

2

Outrigger pressure at 2X2 m plate, 2 m from quayside, t

80

Bollarc traction point, t

50
Type
ISPS

✓

Quay type, Sheet pile wall

✓

Surface type quay, gravel

✓

Surface type quay, concrete

✓

Capping beam type, concrete

✓

Capping beam width, m

0,9
Service
Accessibility for maritime service

✓

Accessible for cranes

✓
History
Construction year

2008
Quay equipment
Supplies
Power supplies

✓

Power stations on quay

1

Power connection point, Power station 1, 125 amp

2

Power connection point, 63 amp

✓

Power connection point, 32 amp

✓

Water supplies at quay

✓

Water hydrants on quay

1

Water feed capacity, tons or m3 per hour

100

Wi-Fi, fiber connection

✓

Bunkering at quay

✓

Slopoil disposal

✓

Waste disposal

✓
Maritime equipment
Fenders diametre, m

1,8

Fenders width, m

0,75

Distance between fenders, m

1,7

Bollard, quantity

9 & 2

Bollard type, bean

X-6-A-F

Bollard swl, capacity, t

30

Distance between bollard, m

20

Bollard for pull test, numbers

3

Bollard for pull test, t

50
Safety
Safety ladders, quantity

9

Safety ladders, type Galvinized Steel

✓

Distance between safety ladders, m

20

Safety point, quantity

3
Environment
LED lightning, numbers

3

LED lightning, capacity, w

3 X 400

Slopoil disposal

✓

Waste disposal

✓
Hinterland at the quayside
Dimensions
Onshore area at quayside, m2

130000

Concrete-surfaced felt areas, m

73X30
Capacity
Surface thickness, concrete surfaced area, cm

20
Type
Surface type onshore area, gravel

✔

Surface type onshore area, concrete

✔
Read more about gravel and sand suppliers