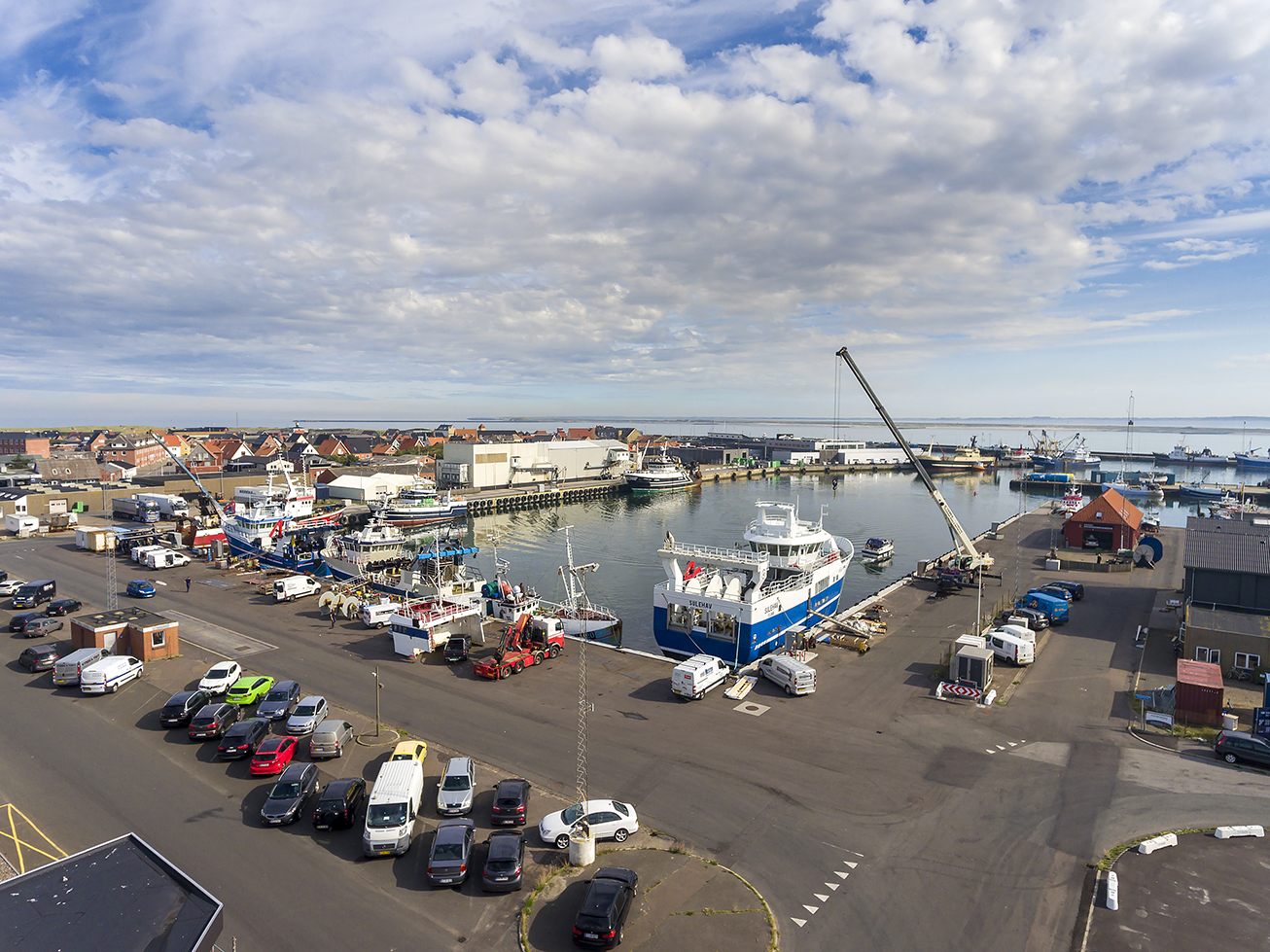 New harbour basin for newbuilds ready in Thyboron
The Port of Thyboron has renovated 402 quay metres in the Vestre Inderhavn basin, and in so doing has created brand-new facilities for the construction of new fishing vessels for the two companies behind Thyborøn Shipyard – Kynde & Toft A/S and Thyborøn Skibs & Motor A/S. The water depth in the basin has been increased from four to six metres, which means that considerably larger fishing vessels than before can now be built here, and that the companies can now also carry out heeling and stability tests in the same basin in which the vessels are built. "This is considerably more efficient, and reduces costs when all the work involved with a newbuild can be carried out without having to move the vessel at any stage. As a port we're very happy to contribute to cost optimisation by building the right infrastructure for the companies based here," says Jesper Holt Jensen, Managing Director, Port of Thyboron.
In conjunction with the project, 167 metres of new quay with good vehicular access have been built for fishing activities at Isværkkaj, in particular for transit fishermen from the Netherlands and Belgium as well as Danish fishermen landing fish for human consumption.
Good working conditions
The conditions under which the work is performed have a key bearing on quality and the efficiency with which the work is carried out. It is vital that the port infrastructure meets the needs of its users and, generally speaking, fishing vessels are only growing in size. There are shipyard activities in other basins at the Port of Thyboron, including a four-track slipway and even a floating dock with a capacity of up to 9,000 tonnes, but the companies Kynde & Toft A/S and Thyborøn Skibs & Motor A/S, which both enjoy first-class quay locations in the Vestre Inderhavn basin, have such large production areas that it is not so simple moving to another and newer harbour basin. Equipment, tools, machinery, component stores, spare parts and crew catering are all at your fingertips when newbuilds are constructed in the harbour basin just outside the company premises. The quayside location provides an excellent starting point for efficient workflows. Therefore, it was imperative that the Vestre Inderhavn basin, which originally dates back to 1935, was renovated and its water depth increased.
The fishermen
When investing in a new fishing vessel, there is so much at stake that solid skills and an efficient construction flow are essential in order to enable the metalworking businesses to offer the most attractive prices and best quality to the fishermen. The fishermen benefit from the considerable know-how which is available when ordering newbuilds in Thyboron at a fair price. At the Port of Thyboron we are keen on contributing to this with an infrastructure which is second to none and allows efficient workflows that reduce costs.
Newbuilds in Vestre Inderhavn
The first vessels have already been built in the new harbour basin and subsequently commissioned. There has been a constant stream of newbuilds and non-stop work at Thyboron for years, and there were no stoppages at all during the renovation work on the harbour basin. "It has required detailed planning of the building process to avoid stoppages, and we're delighted that this has succeeded in full. Today, we have a fully upgraded harbour, where even the oldest of our basins meet current needs. The use of the harbour basin is now safeguarded many years hence, and we're delighted to be able to provide good working conditions for all the skilled workers involved in building new vessels at the Port of Thyboron," says Managing Director Jesper Holt Jensen.
Newbuilds and conversion
Find out more about maritime service at Thyboron Port
Published Friday, August 28, 2020