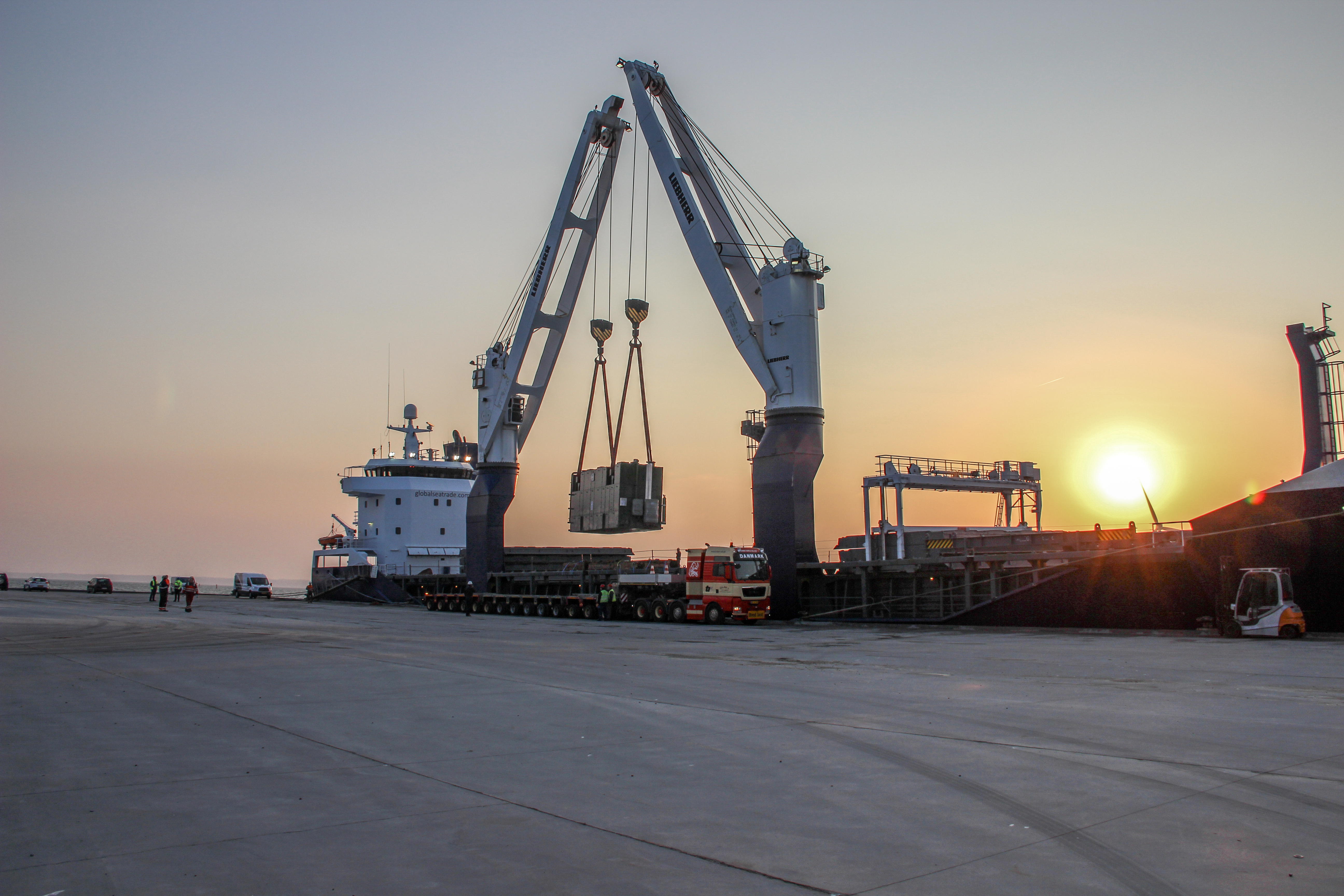 Project cargo at Thyboron Port
Positive customer experience with heavy-lift quay facilities in Thyboron
Inaugurated back in 2016, the heavy-lift quay has gradually proved its worth in many different contexts – for bulk cargo, biomass of various types, aggregate, lime etc., as well as for project cargo, such as transformer stations, wind turbine parts, specialist equipment for offshore support vessels etc. It is quite simply a pleasure to see how happy customers are with the new and efficient facilities.
Logistics setups
Logistics setups can be as different as the cargos being transported. Whatever the cargo, Thyboron can handle it. For customers needing to unload directly from vessel to truck for direct transport to their end-customer, the good access to the quay facilities, with extra space for manoeuvring trucks, makes a huge difference. If it suits a project owner best for the entire cargo or some of it to be stored at the port for a period of time, users will notice the very high level of service being offered by the local stevedoring companies that handle the cargo and store it indoors, or outdoors, as required.
Effective heavy lifting
Thyboron works flexibly to support our customers' projects and provide just the right logistics configuration for any given transport project. For example, onboard cranes can be used for the operation, and local cranes are also available, if needed.
Ensuring just the right logistics setup for the task at hand can make a big difference. At the Port of Thyboron, we have seen examples of three heavy lifts being performed in just two hours because the setup was perfectly tailored to the project.
Uninterrupted work and plenty of space
The heavy-lifts quay is located in an ISPS zone of the port, which ensures uninterrupted operations. Safety is significantly increased by there being is no unauthorised access to the quay, and operations can proceed efficiently and without interruption.
An additional 5,000-square-metre paved heavy-lifts zone right next to the quay ensures quite unique and attractive working conditions, for example for the construction of large offshore structures directly on the quayside, manoeuvring lorries towards freight vessels, and as a workspace in connection with the installation of offshore wind farms. The heavy-lifts facilities in Thyboron are situated right next to 150,000 square metres of onshore storage space in all.
Strategic location
For optimised sea transport, it is important to be able to sail the cargo as close to customers or suppliers as possible. Thyboron is a strategic choice for transporting goods to and from the heartland of Danish industry. The port opens directly onto the North Sea, with short transport times to industrial centres and agricultural production in Denmark.
Fast access to road network
The Port of Thyboron offers quick and easy access to the road network in western Denmark. There is direct access from the quays to the main road, which means that you are not slowed down by town centre traffic. The efficient infrastructure significantly enhances safety and comfort for truck drivers and ensures efficient onward transport. In addition, the completion of the new motorway to Holstebro in 2018 has, of course, further enhanced transport efficiency to and from the Port of Thyboron.
All in all, this means new and unique possibilities for the efficient handling and transportation of cargo, and we are extremely proud of the positive feedback which we are currently receiving from customers on their experience with our new heavy-lifts quay facilities.
More than 1.7 million tonnes of goods pass through the Port of Thyboron annually.
Find out more about the cargo activities at Thyboron Port
Published Sunday, October 6, 2019